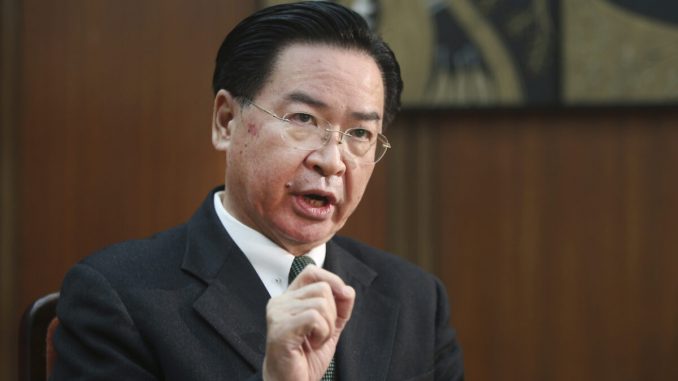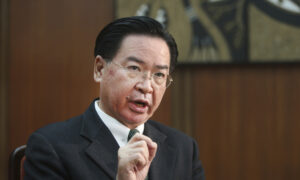 The Chinese Communist Party threatened to take all necessary measures to severely punish Taiwan's foreign minister on Wednesday for remarks made on Twitter, leading Taiwan's Ministry of Foreign Affairs to issue a statement saying that Beijing was being "absurd and ridiculous."
On Tuesday, Foreign Minister Joseph Wu said on Twitter that the Chinese Communist Party (CCP) had blocked Taiwan's participation in the World Health Assembly (WHA), referring to Taiwan by its official name the Republic of China (ROC). Wu added that the Chinese regime's claim that "it has made proper arrangements for Taiwan's participation" is a lie. He also pointed out that Beijing has publicly lied about its suppression of minority Uyghurs, Tibetans, and people of Hong Kong, that the regime has no right to represent the people of democratic Taiwan internationally.
Zhu Fenglian, a spokesperson for the CCP's Taiwan Affairs Office, in response to the Twitter post called Wu a diehard "Taiwan independence" advocate at a press conference on Wednesday, and said that the communist regime in the mainland will take all necessary measures to severely punish and "hold him accountable for life in accordance with the law."
Taiwan's Ministry of Foreign Affairs responded to Beijing's threat, calling it "absurd and ridiculous," emphasizing that the comments "also highlighted the cowardice of the Chinese regime and its inability to self-reflect," Taiwan's national news service the Central News Agency (CNA) reported.
The Ministry of Foreign Affairs pointed out in its response that the ROC is not only a sovereign and independent country but an "advanced democracy and force for good." The ministry said it is legitimate and natural for Taiwan to interact with other democratic and free countries in the international community, and that the Chinese Communist government has no right to interfere.
The Chinese government lacks respect and an understanding of universal values, the ministry added, and uses authoritarian expansionism to try to impose the Chinese Communist Party (CCP)'s one-sided claims on other countries, causing regional tensions and conflicts.
It said that the CCP has not only failed to reflect on itself but falsely claims that democracy is "full of ideological prejudice" and "political drama," and has sanctioned the "Alliance of Democracies" (AoD), which has hosted summits every year since 2018, and its founder, former NATO Secretary-General Anders Fogh Rasmussen, causing an uproar in the international community.
"The Chinese (Communist) government's 'wolf warrior' diplomacy will not win support and respect but will only cause public resentment from the people of Taiwan, other democratic and free countries, and the international community," it added.
The ministry also reiterated the key points of Taiwan President Tsai Ing-wen's speech given at this year's Copenhagen Democracy Summit. In addition to highlighting Taiwan's outstanding contribution to uniting democratic countries and safeguarding global freedom and democracy, Tsai declared that the determination of the Taiwanese government and its people to adhere to the values of freedom and democracy and will not succumb to pressure and bullying from the CCP.