House Speaker Nancy Pelosi has opted to maintain the mask-wearing requirement for members of Congress and staff on the House floor despite new guidance from the Centers for Disease Control and Prevention (CDC) that says fully vaccinated people need not wear masks.
Pelosi's spokesperson, Drew Hammill, told Bloomberg on Thursday that she isn't easing the requirement because it's unknown how many House members and their staff members are vaccinated.
The Epoch Times has reached out to Pelosi's office for comment.
CDC director Rochelle Walensky announced at a press briefing Thursday that the agency had updated its CCP virus public health measure guidance, easing recommendations for mask-wearing.
"Anyone who is fully vaccinated can participate in indoor and outdoor activities, large or small, without wearing a mask or physical distancing," Walensky said. "If you are fully vaccinated, you can start doing the things that you had stopped doing because of the pandemic. We have all longed for this moment when we can get back to some sense of normalcy."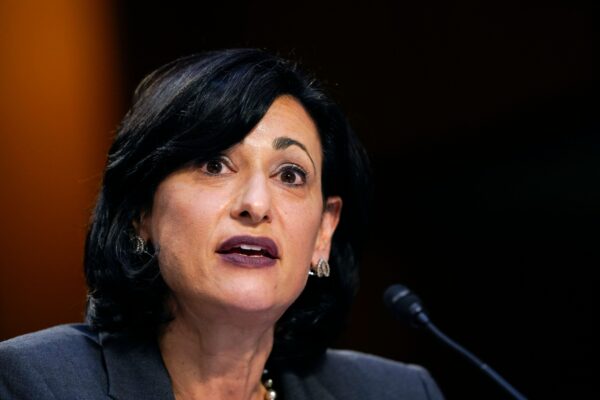 She said people who are immunocompromised are advised to consult a doctor before dropping mask-wearing, adding that there are instances where people may still be required to wear masks, regardless of vaccination status, such as in health care settings or if their employers require it.
Besides citing encouraging COVID-19 infection and fatality metrics, Walensky noted mounting scientific data showing that the authorized vaccines are effective against the CCP (Chinese Communist Party) virus variants currently circulating in the United States, as reasons for easing restrictions.
Walensky noted, however, that "the virus can be unpredictable" and so if things get worse, there's a chance the CDC will pivot in its recommendations.
Several days ahead of the CDC announcement, Pelosi said the House rules on wearing masks would be relaxed, so lawmakers could remove them when they are recognized to speak during debate.
Republicans cheered the CDC's easing of mask-wearing guidance and urged Pelosi to lift the mask-wearing restrictions in the House entirely.
"Madam Speaker … I ask that given the updated CDC guidance, we all take off these stupid masks," said Rep. Brian Mast (R-Fla.), demonstratively placing his mask on the seat behind him.
Rep. Tim Burchett (R-Tenn.) sent a letter (pdf) on Thursday to Pelosi, urging her to end the House restrictions.
"In light of recent U.S. Centers for Disease Control and Prevention (CDC) guidance, I write to request you immediately remove all restrictions and provisions instituted in response to COVID-19 in the U.S. House of Representatives," Burchett wrote.
Burchett called for an end to proxy voting, virtual committee hearings, mask mandates, restricted access to the Capitol complex, and the suspension of Capitol tours.
"It is important that we, as members of Congress, lead by example by returning to normal operations," Burchett wrote.
Masks became a political flashpoint during the pandemic, with Republicans arguing that mandates on facial coverings infringed on individual liberties. Mask-wearing has become an increasingly contentious issue amid the vaccination drive, as many have questioned why it's necessary to still wear a mask after getting the vaccine.