Rep. Marjorie Taylor Greene (R-Ga.) denied reports of having screamed at Rep. Alexandria Ocasio-Cortez (D-N.Y.) on Wednesday.
Greene told reporters on Thursday that she was just talking to her and seeking discussion about legislation.
"Screaming is what people do when rockets are fired at them, like Hamas terrorists are firing into Israel," Greene said. "They scream when that happens, I was talking to AOC saying 'you need to debate me about the Green New Deal,' that's her legislation, she should be able to defend it for the American people."
The incident in question was reported by Washington Post reporters who asserted that as Ocasio-Cortez was walking away from the House chamber, Greene shouted  "Hey Alexandria" twice to try to get her attention, but she didn't stop walking, so Greene walked toward her and started asking why she supports Antifa and Black Lives Matter, saying that they are terrorist groups.
Greene also allegedly said that Ocasio-Cortez is not able to defend her "radical socialist" ideology because she rejected to debate Greene publicly.
"You don't care about the American people," Greene told Ocasio-Cortez. "Why do you support terrorists and Antifa?"
Ocasio-Cortez didn't stop, according to The Washington Post, and only turned around once to gesture annoyedly by throwing her hands in the air.
Lauren Hitt, a spokesperson for Ocasio-Cortez, told the outlet that Greene "tried to begin an argument with Congresswoman Ocasio-Cortez and when Rep. Ocasio-Cortez tried to walk away, Congresswoman Greene began screaming and called Rep. Ocasio-Cortez a terrorist sympathizer."
House Speaker Nancy Pelosi (D-Calif.) said during a press conference on Thursday that the incident was a cause for "trauma and fear among members, especially on the heels of an insurrection."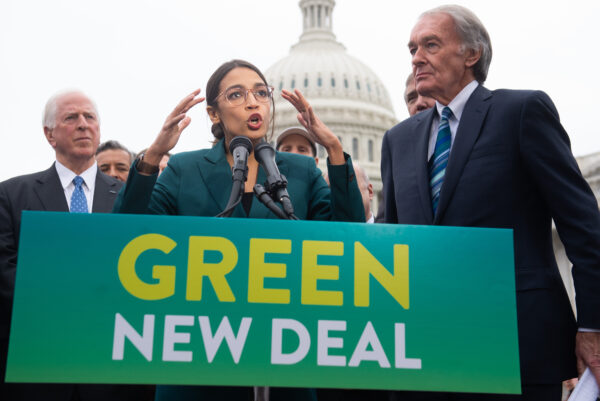 "This is beneath the dignity of a person serving in the Congress of the United States," Pelosi remarked, further stating that it "probably is a matter for the Ethics Committee."
Greene responded by saying that Ocasio-Cortez is the one who should be looked into, claiming that she supports terrorist groups and other controversial matters.
"I would think everyone should be asking her why she can't defend her policy. And then she's on social media defending terrorists Hamas and supporting them. She also defends Antifa and BLM rioters. We have, Ilhan Omar, Kamala Harris, sharing the Minnesota Freedom Fund bail bond link, getting people out of prison after they committed crimes during these riots. These are the real questions that need to be asked, not of me for being willing to talk to members of Congress about these issues," Greene said.
"See, that's bipartisanship, talking to one another, debating policy for the American people. That's what needs to happen. So, no, she doesn't need to file ethics violations or whatever she's doing, that's reacting like a child, adults are able to debate policy," she added.
The Epoch Times reached out to Ocasio-Cortez's office for comment.