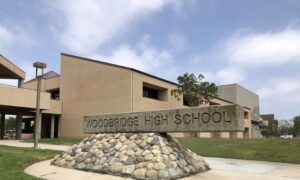 An Irvine, Calif. math teacher is in the running for the "highest level of recognition" for STEM educators.
Woodbridge High School teacher Kristie Donavan is among three California math teachers named finalists for the 2021 Presidential Awards for excellence in mathematics and science teaching.
"Kristie Donavan is an exceptional mathematics teacher who is beloved by her students," school  principal Chris Krebs said in a statement. "She has a passion and desire to support student learning at a level found in very few educators."
The teacher of 13 years has worked on special assignments, led district teams in creating new math classes, re-examined high school grading practices and implemented integrated math courses.
"Since 2007 she has taught all levels of mathematics including working with both advanced and at-risk students, effectively supporting a model that includes co-teaching with a special education teacher, as well as personally developing and teaching multiple strategic intervention programs," Krebs said. "She's an exemplar teacher, a wonderful colleague, and a mentor for new teachers in the field."
The award is administered by the National Science Foundation on behalf of The White House Office of Science and Technology Policy as a recognition to teachers that have successfully mentored and engaged students in STEM.
About 108 awards in the fields of STEM are presented by the president to K-12 teachers around the United States each year.
"These incredible educational mentors are driving preparation in math, technology, engineering and science, including computer science that connect students with the world around them and help them grow their skills to persevere in any endeavor," California State Superintendent Tony Thurmond said in a press release.
The California Department of Education in partnership with the California Mathematics Council and the California Association of Science Educators work together to select nominees for the PAEMST program.
Applicants that apply for the award must show mastery of applied subject, instructional methods, lifelong learning skills, and leadership outside the classroom.