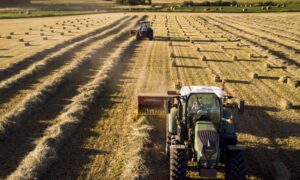 Alliance that advocates for farmers wants Ottawa to acknowledge its efforts to reduce carbon emissions
A national coalition of agricultural groups wants Ottawa to acknowledge its efforts to reduce carbon emissions, but its task will be difficult, say experts.
The Agricultural Carbon Alliance (ACA) was formed March 1 to engage the federal government on carbon pricing and advocate for practical options regarding offsets, rebates, and exemptions. Its 14 organizations account for more than 190,000 farm businesses, and together they steward some 62 million hectares, which is over 7 percent of Canada's land mass.
Agriculture contributes over $32 billion to Canada's gross domestic product, while the entire agri-food industry represents another $143 billion and provides 1 in 8 Canadian jobs. However, Barry Cooper, political science professor at the University of Calgary, said the sector hasn't had a high profile since the period from 1972 to 1984, when Ontario Liberal MP Eugene Whalen was agriculture minister.
"That was the last time agriculture really mattered. Because since then, we've either had these guys from the West whom nobody pays attention to, or they haven't been really very vocal," Cooper said in an interview.
The ACA supports Bill C-206, which extends the exemption from carbon taxes enjoyed by farming fuel to marketable gas and propane. The coalition also wants exemptions for equipment used to heat and cool animal barns, power greenhouses, and run irrigation and grain-drying processes, for which no alternative fuel sources are available.
"The currently proposed exemptions do not address the undue financial burden the carbon tax places on all the necessary practices undertaken by the farmers and ranchers our members represent," the ACA said in a May 3 letter to the House of Commons Standing Committee on Agriculture and Agri-Food.
"We ask that you lend your support to Bill C-206 and seek additional ways to expand exemptions to ensure practices that are required by farmers, where no viable alternative fuel source exists, are not penalized."
Farmers who took measures to reduce carbon emissions and increase carbon retention in the soil since January 2017 have received federal credit for these carbon offsets. The ACA wants this benefit extended to farmers who made those changes prior to that time.
"If they're dealing with oppressive laws … whatever they need to do, that's fine, anybody would be happy to support them doing that. But the big problem that not only is never discussed, it's hardly ever acknowledged, is that of course, climate changes," Cooper said.
"What is the relative contribution of [humans] to … these naturally occurring changes? … It's impossible to get data on [that] because nobody knows. The IPCC stuff says, 'What is the contribution of humans,' not, 'How is the contribution of humans to be compared to volcanoes?'" he added, referring to reports by the UN's Intergovernmental Panel on Climate Change.
The Climate Action Incentive Fund (CAIF) commits a portion of revenue collected by the carbon tax for rebates and retrofits for businesses to reduce carbon emissions. However, CAIF has been closed for applications since the summer of 2019 and the ACA wants this revenue to be available again for emission reduction projects.
According to the ACA website, "Sharing the story of Canadian agriculture's history of innovation as a climate-solutions provider will be an important part of ACA's advocacy." This parallels efforts by the oil and gas sector, said Dan McTeague, president of Canadians for Affordable Energy.
"We're way ahead of the United States and most other countries on reduction of methane. That is considered the most lethal part of the so-called emissions," McTeague said in an interview. "We have probably the most regulated environmental industry of any producing nation in the world, bar none."
The problem, McTeague said, is that such innovations fail to satisfy those who demand "a green utopia" in a "world of magic and make-believe." Even so, he believes the ACA may have more leverage because agriculture fills stomachs, not vehicles.
"The climate commissars who push this agenda and those who follow it religiously and propagate this idea that all this debate in this country should be about climate change and nothing else—despite the fact that most of us don't agree with them—have to perhaps recognize that every one of us eats," McTeague said.
"It's going to be a little harder to make the argument that we just don't need food—unless of course, we really are dealing with people who truly think that how you bring down emissions globally is by reducing population."