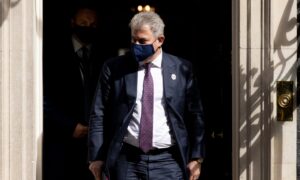 The British government is "truly sorry" for the events in west Belfast in 1971 in which 10 innocent people were killed, the UK's Secretary of State for Northern Ireland Brandon Lewis said on Thursday.
On Tuesday, a coroner found that the victims who were killed in Ballymurphy were "entirely innocent" and that the British soldiers' use of lethal force was not justified.
In a statement to the House of Commons on Thursday, Lewis said that Prime Minister Boris Johnson had "apologised unreservedly on behalf of the state" and was also writing personally to the families of the victims.
"The events of Ballymurphy should never have happened, the families of those who were killed should never have had to experience the grief and trauma of that loss.
"They should have not had to wait nearly five decades for the judgment this week, nor have been compelled to relive that terrible time in August 1971 again and again in their long, distressing quest for truth."
He said the government "profoundly regrets" and is "truly sorry" for the killings and the handling of the investigations, which caused "additional pain that the families have had to endure in their fight to clear the names of their loved ones."
Coroner Justice Keegan found the Army to be responsible for nine of the 10 deaths in August 1971, which included a mother of eight and a Catholic priest.
The coroner acknowledged it was a chaotic time in Northern Ireland but ruled that the use of force by soldiers had been "disproportionate" in the nine deaths the Army was found as responsible for.
She ruled out any paramilitary involvement by any of those killed, and described them as "entirely innocent of any wrongdoing on the day in question."
A Downing Street spokesman said on Wednesday that Johnson found the coroner's conclusions "deeply sad" and the events in 1971 "tragic."
During a phone call with Northern Ireland's First Minister Arlene Foster and Deputy First Minister Michelle O'Neill, "The prime minister apologised unreservedly on behalf of the UK government for the events that took place in Ballymurphy and the huge anguish that the lengthy pursuit of truth has caused the families of those killed."
But the victims' families have criticised Johnson for not issuing the official apology himself.
John Teggart, whose father was killed at Ballymurphy, welcomed Lewis's statement but said it should have come from the prime minister.
Briege Voyle, whose mother was among the victims, said: "Why could Boris not do it, why could he not? It won't bring my mummy back but at least you would have felt that you were being respected.
"One thing that annoyed me, they didn't mention an investigation. Now we have to start again to try and find out why our loved ones were murdered. Why? They were innocent, my mummy was shot in broad daylight."
PA contributed to this report.