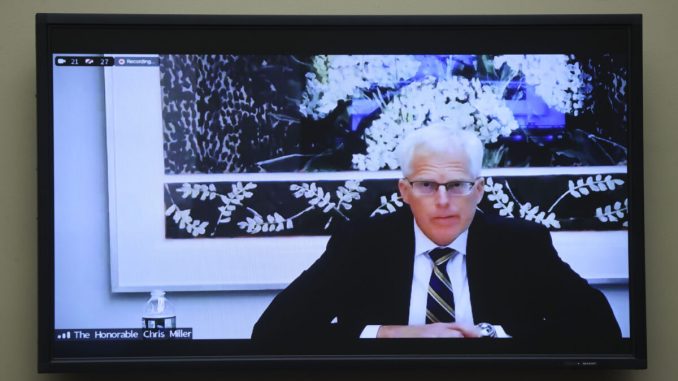 Former acting Defense Secretary Christopher Miller told members of Congress on Wednesday that he has reassessed his earlier claim that former President Donald Trump incited the Jan. 6 Capitol riot.
"I think now I would say that that is not the unitary factor at all. I would like to offer—I've reassessed. It's not the unitary factor at all. It seems clear there was an organized conspiracy with assault elements in place," Miller told a House panel in Washington.
In a previous interview and his prepared opening testimony, Miller pinned blame on Trump.
"I stand by my prior observation that I personally believe his comments encouraged the protestors that day," he said in the testimony.
Trump made a speech at The Ellipse, about two miles from the Capitol, on Jan. 6. During his remarks, he told supporters to march on the Capitol but also urged them to remain peaceful. Before Trump finished speaking, clashes at the Capitol had already broken out. Trump has said his speech was "totally appropriate."
Democrats, who impeached Trump over his speech and repeated claims that the 2020 election was rigged, were upset about Miller's shift.
"This is a very recent reversal of your testimony," Rep. Stephen Lynch (D-Mass.) said.
After Miller called the charge "ridiculous," Lynch told him: "You're ridiculous."
Lynch said in his view, no one would have tried to overrun the Capitol if Trump hadn't given his speech.
Miller later said he was trying to differentiate people who had marched to the Capitol and those who had breached the building.
"There's a difference between marching on the Capitol and assaulting the Capitol," Miller said. "That's the delineation I'm trying to make, despite the partisan attack that I just was subjected to."
Miller during the House Oversight Committee hearing also said he did not speak to Trump on Jan. 6, while former acting Attorney General Jeffrey Rosen declined to say if he did.
"I cannot tell you, consistent with my obligations today, about private conversations with the president one way or another," Rosen told lawmakers.
"We had an unprecedented insurrection that led to seven deaths. Five here and two suicides, and you are saying this is a privileged communication?" Rep. Gerry Connolly (D-Va.) responded. "I think the American people are entitled to answer, Mr. Rosen."
Authorities from various agencies, including the ones once headed by Miller and Rosen, have been criticized for not responding quickly enough to the breach, which saw members huddled in fear as groups smashed their way into the Capitol during a joint session. Various officials, such as D.C. National Guard head William Walker, have blamed other departments for the delayed response.
Trump the day prior asked Miller to send 10,000 troops to Washington to maintain order, Miller confirmed in his written remarks, but was rebuffed.
"At the time, I had been advised by our domestic law enforcement partners that based on their experience with protests and crowd control, as well as their intelligence information, that they were confident that they had sufficient personnel assigned to maintain order," Miller wrote.
He said he stood behind every decision he made on Jan. 6 and in the aftermath and was proud of the military members who responded to the breach and helped protect the nation's capital afterward.
It was the first time Rosen and Miller testified about the events earlier this year.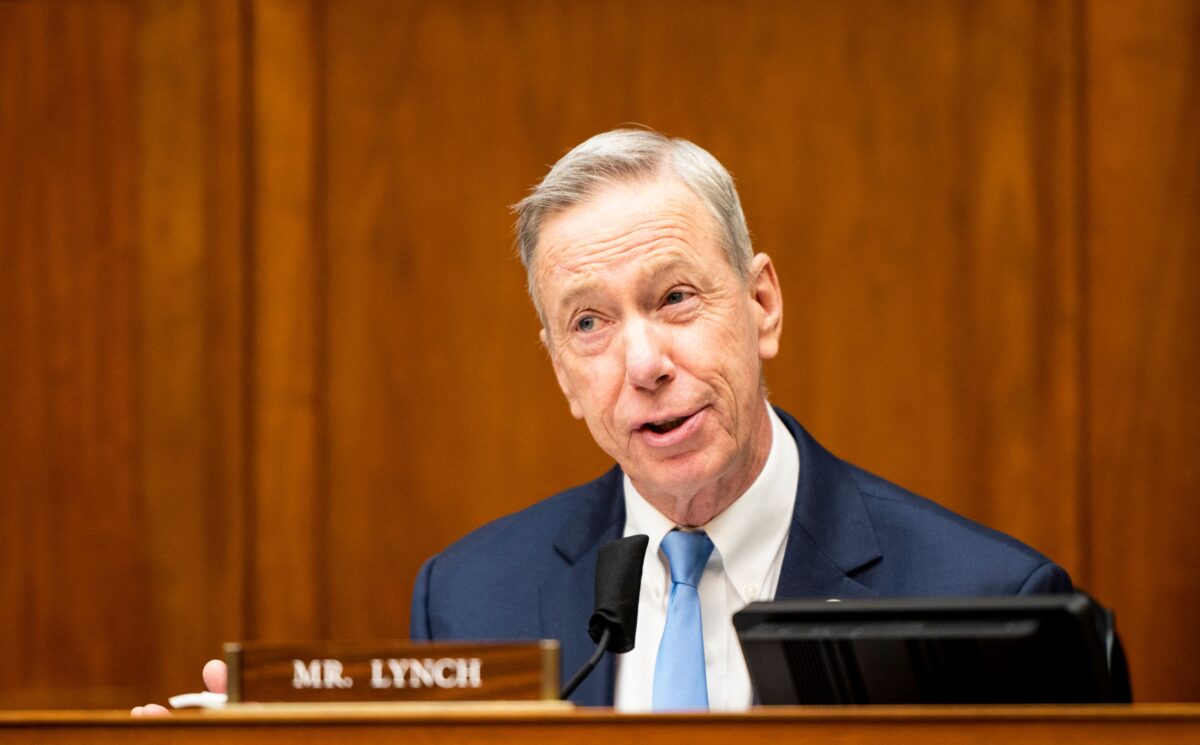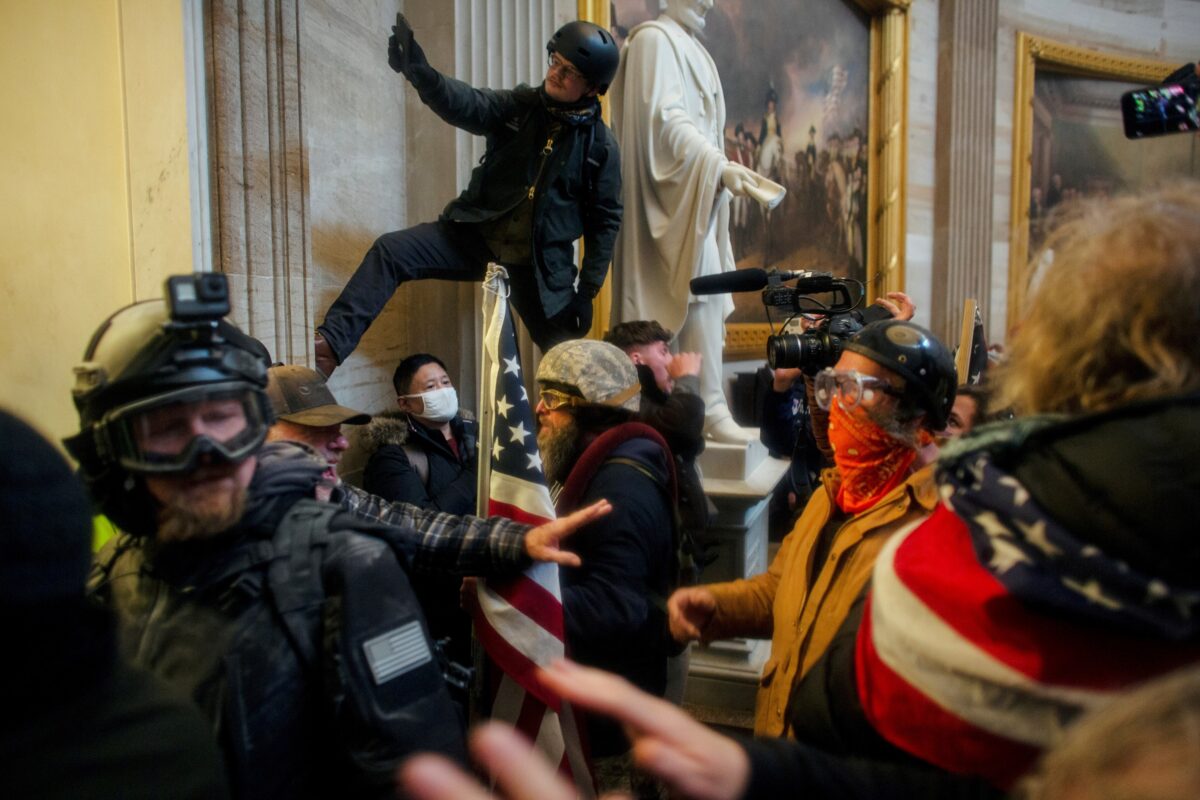 Republicans tried pressing officials on other matters. Under questioning from Rep. Paul Gosar (R-Ariz.), Rosen declined to confirm that the Department of Justice did not confiscate any firearms from people who breached the Capitol. Prosecutors have alleged rioters were armed.
Gosar was also unsuccessful getting Rosen to comment on the killing of Ashli Babbitt, who was shot dead by a U.S. Capitol Police officer while trying to enter a hallway adjacent to the House chamber.
"Outright propaganda and lies are being used to unleash the national security state against law-abiding U.S. citizens, especially Trump voters," Gosar said. "The FBI is fishing through homes of veterans and citizens with no criminal records, and restricting the liberties of individuals that have never been accused of a crime."
Rep. Ralph Norman (R-S.C.) later said that reports describing rioters as Trump supporters were akin to reports claiming Capitol Police officer Brian Sicknick was killed by the breachers. Sicknick's autopsy later showed he died of natural causes.
"I don't know who did the poll to say that they were Trump supporters," Norman said. He said the invasion of the Capitol was clearly planned beforehand by a group that had gear like helmets and flak jackets.
The hearing was "just going through the motions to blame" Trump, he charged.
Some people who entered the Capitol were wearing pro-Trump items, such as "Make America Great Again" caps.
Democrats throughout the hearing referred to the breach as a violent insurrection, but Rep. Pat Fallon (R-Texas) said Democrat leadership in the House is not working to answer crucial questions about the Jan. 6 attack.
"How can an unorganized mob of strangers most unarmed completely while others with flagpoles and pepper spray, have breached the United States Capitol?" he wondered, noting that no one has been charged with murder, attempted murder, treason, or insurrection as of yet.