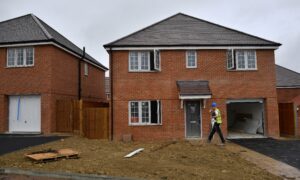 British house builders are set to construct more detached and semi-detached homes, as the demand grows for properties with space to work from home, an industry body has said.
The National House Building Council (NHBC), a warranty and insurance provider, said the housing sector has "bounced back" following the disruption caused by the COVID-19 pandemic, with the number of new home build registrations up by 10 percent in the first quarter of 2021 compared with a year earlier.
Across the UK, 36,863 new homes were registered with NHBC in the first quarter of 2021 compared with 33,388 in the same period last year.
There were 12,583 registrations for detached homes—an 18 percent increase compared with a year earlier—and 11,199 for semi-detached properties—a 30 percent uplift.
By contrast, only 7,022 apartments were registered, down by 21 percent from a year earlier.
NHBC chief executive Steve Wood said: "Demand for detached and semi-detached houses has increased significantly during the pandemic, which has accelerated the longer-term trend to more home-based working."
Over the past year, the UK has witnessed a shift in housing demand away from cities and towards more rural or less densely populated areas of the country.
According to the Resolution Foundation, a London-based think tank, while house prices have rocketed across the board during the CCP (Chinese Communist Party) virus pandemic, there has been a more significant jump in the least densely populated areas of the UK, with areas that have higher population density lagging behind.
Since February 2020, house prices have risen by over 10 percent in the least populous tenth of local authorities in the UK, but have increased by just 6 percent in the most densely populated decile of local areas, the think tank found.
Within the capital, house prices in Outer London rose by 7 percent since February 2020, while the increase was only 2 percent on average for Inner London, which is more densely populated.
This is not just a London effect, the researchers said, as cities across the UK have seen slower growth in house prices than rural areas, suggesting a reduced preference for urban living.
House price growth accelerated across the UK in April amid a slowdown in the supply of homes, according to surveyors.
A net balance of 44 percent of property professionals saw buyer inquiries pick up last month, the Royal Institution of Chartered Surveyors (RICS) said.
In its new legislative agenda unveiled earlier this week, the UK Government pledged to create a simpler and faster planning system, which will speed up the delivery of homes, schools, and hospitals across England.
PA contributed to this report.