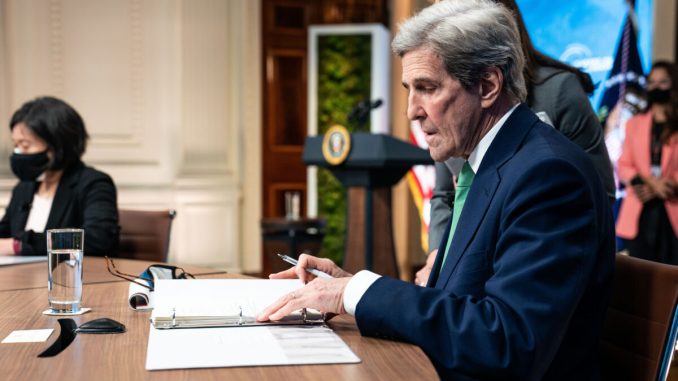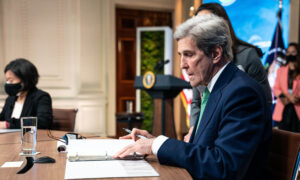 The Biden administration's climate envoy, John Kerry, acknowledged Wednesday that reports of forced labor central to the Chinese Communist Party's (CCP) green energy policies present a "problem" to the national climate strategy.
Kerry made the remarks during a House Foreign Affairs Committee hearing in response to comments from Rep. Michael McCaul (R-Texas) about a damning report from Bloomberg that revealed some solar products sourced from Xinjiang, including polysilicon, are made using forced labor.
Polysilicon is the key raw material used to produce solar panels that generate electricity from sunlight. Three factories in Xinjiang collectively produce nearly half the world's polysilicon supply, Bloomberg reported.
"When you look at the supply chain, when you look at China, they dominate the critical mineral supply and solar supply chains all coming out of Xinjiang Province," McCaul, the lead Republican on the House Foreign Affairs Committee, said of the issue.
In response, Kerry said McCaul was "absolutely correct" that it is a problem.
"Xinjiang province not only produces some solar panels that we believe, in some cases, are being produced with forced labor by Uyghurs, but also there are significant amounts of a certain rare earth mineral that's used in the solar panels themselves," the U.S. special envoy on climate responded.
"It is my understanding that the Biden administration is right now in the process of assessing whether or not that would be the target of sanctions," Kerry added. "I've heard some discussion about it. I'm not privvy to where that decision is at this point in time but I can tell you that nothing can be traded. And I've made that very clear, President Biden has made it very clear."
McCaul during the hearing urged Kerry not to ignore the CCP's human rights abuses in making a potential climate deal, after China and the United States pledged to cooperate on fighting climate change when Kerry traveled to China last month. Kerry's trip was criticized by several Republican lawmakers, saying it was a fruitless endeavor.
The lawmaker noted that China is the world's leading greenhouse gas emitter and is responsible for almost 30 percent of global emissions.
A report published on May 6 by New York-based research firm Rhodium Group found that China alone was responsible for over 27 percent of total global emissions, with the United States being a distant second at 11 percent. India was ranked third with 6.6 percent, followed by the 27-country bloc of the European Union at 6.4 percent.
McCaul in March urged the Biden administration to add the People's Republic of China (PRC) entities connected to the polysilicon supply chain to the U.S. Entity List, and cautioned Kerry about negotiating with the CCP on climate.
"There are clear ties between the polysilicon supply chains in the Xinjiang Uyghur Autonomous Region and forced labor. That's why I'm calling on the Commerce Department to comprehensively add PRC entities connected to the polysilicon supply chain, including [polysilicon factory] GCL-Poly, to the Entity List and for U.S. Customs and Border Protection to issue a withhold release order for polysilicon products from Xinjiang," he said in a statement on March 17.
Companies or others listed on the U.S. Entity List are required to apply for licenses from the Commerce Department and face tough scrutiny when they seek permission to receive items from U.S. suppliers.
Frank Fang contributed to this report.