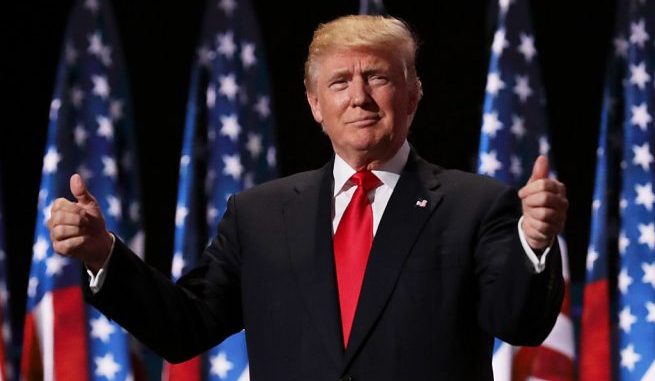 OAN Newsroom
UPDATED 5:33 PM PT – Monday, February 22, 2021
President Trump is reportedly planning to say he is the presumptive 2024 GOP nominee in his upcoming speech at the Conservative Political Action Conference.
According to a report from Axios on Monday, the 45th President's speech will be "a show of force," and affirm he is still in charge of the GOP.
Senior adviser Jason Miller said President Trump is the Republican Party, and attacking him is like attacking the party's grassroots.
President Trump has notably been in touch with party leaders like Sen. Lindsey Graham (R-S.C.), House Minority Leader Kevin McCarthy (R-Calif.) and Minority Whip Steve Scalise (R-La.).
"I was in Florida doing some fundraising throughout a number of parts of Florida, ended up at Mar-a-Lago, and the President reached out and we visited," Graham said. "I hadn't seen him since he had left the White House, and it was actually good to catch up with him. I noticed he was a lot more relaxed than his four years in the White House.
The 45th President is expected to go after a number of GOP lawmakers in the primaries who he believes have wronged him and millions of his supporters.
"He still cares a lot about this country and the direction of our country. But, you know, it was a conversation more about how he's doing now and what he's planning on doing and how his family is doing," Graham added.
Save America, President Trump's leadership PAC, notably has $75 million of cash on hand.
In the meantime, yet another poll has shown the 45th President still has strong support in the GOP. In a Suffolk/USA TODAY survey of 1,000 Trump voters released on Sunday, 59 percent of respondents said they want to see President Trump run in 2024. Additionally, 85 percent of respondents said they would back him in the general election if he were the nominee.
The survey also indicated Trump voters are more loyal to the man himself than the actual party. 46 percent of respondents said they would join a new political party if he formed one, while 27 percent would not.