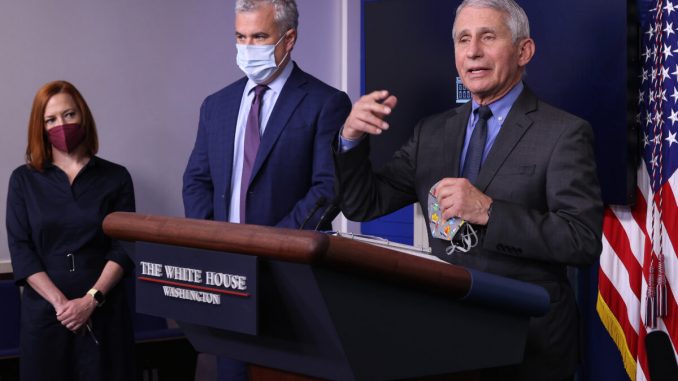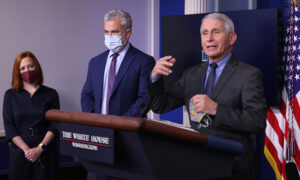 Dr. Anthony Fauci, the head of the U.S. National Institute of Allergy and Infectious Diseases (NIAID), said that people who are vaccinated against COVID-19 don't have to wear a mask outdoors.
"We've got to make that transition," Fauci told CBS News on Thursday. "If you are vaccinated, you don't have to wear a mask outside." He did not elaborate on whether individuals should keep wearing masks indoors in public spaces.
It came after the U.S. Centers for Disease Control and Prevention (CDC) in April said that vaccinated individuals don't have to wear a mask at small outdoor gatherings.
Mask-wearing has become an increasingly contentious issue amid the vaccination drive, as many have questioned why it's necessary to still wear a mask after getting the shot. At the same time, some elected officials, including Florida Gov. Ron DeSantis, have said that health officials' insistence on people wearing masks after getting vaccinated creates a disincentive for individuals to get the shot.
"It would be a very unusual situation, if you were going into a completely crowded situation where people are essentially falling all over each other, then you wear a mask," Fauci, who has essentially become the public face of the federal government's pandemic response, told the network. "But any other time, if you're vaccinated and you're outside, put aside your mask. You don't have to wear it."
Earlier this month, Fauci said that the CDC's guidance saying that children attending summer camps should still wear masks is "a bit stringent" and too "conservative."
"We need to start being more liberal as we get more people vaccinated," he told ABC News. "As you get more people vaccinated, the number of cases per day will absolutely go down. We're averaging about 43,000 a day, we've got to get it much, much lower than that. When that gets lower, the risk of any infection indoor or outdoor diminishes dramatically."
In April, DeSantis, a Republican, called on fully vaccinated people to "act immune" and said they shouldn't worry about mask-wearing.
"I think the messaging should be, 'Get a vaccine because it's good for you to do it. It works. You're not going to have to be doing anything abnormal. You can live your life.' That's got to be what the message is," he said.
Separately, on Wednesday, the CDC found more cases of potentially life-threatening blood clotting among people who received the Johnson & Johnson COVID-19 vaccine.
So far, three of the 28 have died. Previously, as of April 25, the CDC had reported 17 cases of clotting among nearly 8 million people given vaccines.
The CDC said on Wednesday the events appear similar to what is being observed following administration of the AstraZeneca COVID-19 vaccine in Europe.
COVID-19 is the disease caused by the CCP (Chinese Communist Party) virus.
Most of the cases were among women aged 18 to 49, the CDC said, with rates among women aged 30–39 at 12.4 cases per million and those aged 40–49 at 9.4 cases per million.
Reuters contributed to this report.