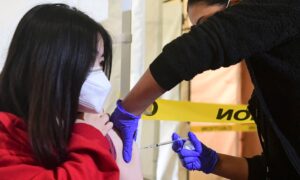 A federal advisory panel approved the use of the Pfizer vaccine on younger adolescents aged 12 to 15 years old on May 12.
The Advisory Committee on Immunization Practices, which offers assistance to the U.S. Centers for Disease Control and Prevention (CDC), voted unanimously 14-0 in favor of the vaccine, saying that after evaluating trial evidence, it showed no cases of severe allergic reactions or Bell's Palsy on the age group, and that none of them contracted COVID-19.
"This will provide protection for 12 to 15-year-olds," Dr. Henry Bernstein, a member of the advisory committee and professor of pediatrics at Zucker School of Medicine at Hofstra/Northwell, said.
On Monday, the FDA approved the usage expansion for the Pfizer vaccine.
Pfizer's testing in adolescents "met our rigorous standards," FDA vaccine chief Dr. Peter Marks said.
Pfizer is not the only company seeking to lower the age limit for its vaccine. Moderna recently said preliminary results from its study in 12- to 17-year-olds show strong protection and no serious side effects, data the FDA will need to scrutinize.
Last week, Biden administration officials said that the goal will be to apply at least one COVID-19 shot to 70 percent of adults in the nation and to get 160 million adults fully vaccinated by Independence Day.
The goal comes as authorities are encountering increasing opposition against the vaccine due to hesitation over concerns of side effects, safety, efficacy, the speed at which it was made ready, mistrust in pharmaceutical companies, and an aversion to vaccine passports.
Some children are already having their sleeves rolled up for inoculation.
States such as Georgia, Delaware, and Arkansas have started to offer vaccination of younger teens on Tuesday.
According to Quartz, Pfizer is expecting to sell $15 billion in vaccines in 2021 alone.
Pfizer is the first company to have been approved for advanced market use, they expect a 6 percent growth in 2021—moving toward about $60 billion in earnings from $42 billion made last year, which would make it one of the most profitable drugs on the globe.
From Dec. 14, 2020, to May 3, the publicly available Vaccine Adverse Events Reporting System received 4,178 reports of deaths among people who received a COVID-19 vaccine.
In a recent CDC data update, the organization states that less than 6 percent of deaths involving COVID-19 were due to COVID-19 alone. For the rest of the cases, there was an average of "4.0 additional conditions or causes per death."
According to recent data from the American Academy of Pediatrics, "Children were 0.00 percent–0.21 percent of all COVID-19 deaths, and 9 states reported zero child deaths. In states reporting, 0.00 percent–0.03 percent of all child COVID-19 cases resulted in death."
Reuters and The Associated Press contributed to this report.