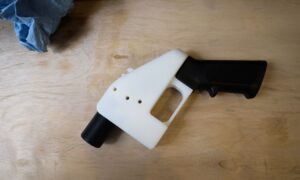 Lawmakers have reintroduced a bill that they say would ban so-called "ghost guns," or guns that are made from a build-it-yourself kit, in their latest gun control effort.
The measure, dubbed the Untraceable Firearms Act, would expand the federal law's definition of "firearm" to include "ghost gun" parts such as unfinished frames and receivers. The move would require online and other gun kit manufacturers and distributors who sell such parts to comply with the same federal regulation that governs the production and distribution of completed firearms, such as requiring sellers to obtain a manufacturer's license and to place a serial number on the frame or receiver included in each kit. Purchasers of such kits must also undergo a background check.
Sen. Richard Blumenthal (D-Conn.) introduced the bill along with 11 co-sponsors during a Senate Judiciary Constitution Subcommittee hearing on Tuesday. Rep. David Cicilline (D-R.I.) introduced a companion bill in the House. A version of a similar bill was introduced in 2020.
"Our bill would close the 'ghost' gun loophole for good. An assault weapon built from a kit ordered online can kill just as many people as one bought in a store—only the DIY version doesn't require an ID, licensing, or a background check," Blumenthal said in a statement.
"There's nothing ghostly about 'ghost' guns—they look like guns, shoot like guns, and kill like guns. Our legislation would ensure that violent extremists, domestic abusers, and foreign terrorists can't evade background checks and other safety measures by building weapons at home instead of buying them from a store."
Democrats and gun control activists have raised concerns about "ghost guns" and other 3D-printed firearms because they lack serial numbers, making them untraceable by authorities. They are also often made of plastic, meaning that they may not set off metal detectors at airports. They are also easy and cheap to make.
Moreover, they could render current gun regulations unenforceable because people who are normally restricted from obtaining a gun could avoid background checks and other regulatory procedures.
It comes after the Justice Department on Friday issued a notice of proposed rulemaking that the department said would "modernize the definition" of frame or receiver and close a regulatory loophole related to "ghost guns."
"We are committed to taking commonsense steps to address the epidemic of gun violence that takes the lives of too many people in our communities," Attorney General Merrick Garland said in a statement.
"Criminals and others barred from owning a gun should not be able to exploit a loophole to evade background checks and to escape detection by law enforcement. This proposed rule would help keep guns out of the wrong hands and make it easier for law enforcement to trace guns used to commit violent crimes, while protecting the rights of law-abiding Americans."
The department noted that between 2016 and 2020 there were more than 23,000 firearms without serial numbers reported to have been recovered by law enforcement from potential crime scenes, including in cases linked with homicides or attempted homicides.
The Justice Department is also expected to introduce a proposed rule declaring a stabilizing brace that turns a pistol into a short-barreled rifle and publish model "red flag" legislation for states, according to a White House announcement in April.
Red flag laws let family members or law enforcement ask a court to bar people from owning guns if the people allegedly present a danger to themselves or others.
Gun rights advocates have criticized the announcement by the Biden administration, arguing that the proposed bans are government overreach that do "nothing to address the criminal misuse of firearms."
Zachary Stieber contributed to this report.