McALLEN, Texas—The most concerning aspect of the border crisis is the increasing number of illegal aliens who are getting away, says National Border Patrol Council President Brandon Judd.
"We don't know who they are, where they're from, or what their intentions are," Judd told The Epoch Times. "When you look at border security, when you look at the border, we have to be able to identify who's coming into the United States. And if we can't do that, it's impossible to protect the American public."
In February, Border Patrol estimated that around 30,000 illegal aliens crossed the U.S.–Mexico border and evaded capture; in March, it was around 37,000; and the preliminary numbers for April show around 42,600 escaped. That's about 1,400 per day.
On May 5, the Webb County Sheriff's Office discovered 76 illegal immigrants locked inside a residence in Laredo, Texas.
On top of that, Judd said, "it's very fair to say that there's a large number of people that are able to get away that we don't even detect."
Some of those illegal aliens who manage to bypass Border Patrol then end up getting picked up during a high-speed vehicle chase, or locked in a tractor-trailer unit, or packed by the dozens in a stash house. Others die on ranchland trying to get around a Border Patrol checkpoint, or they're abandoned by a smuggler because they get sick.
"Everything that we're seeing—this boat that capsized—everything is related," Judd said, referring to a human smuggling operation gone bad off the coast of San Diego on May 2. A total of 33 people were pulled from the water after a 40-foot trawling-style boat smashed into rocks and broke apart. Three people died.
"As long as we continue to, in essence, encourage people to cross our borders illegally, we're going to continue to see the stash houses, we're going to continue to see the boats, we're going to continue to see the semis filled with people," Judd said.
"It's the most inhumane thing I've ever seen in my life as it pertains to the border, but it's being encouraged. Because we have basically an open borders policy right now."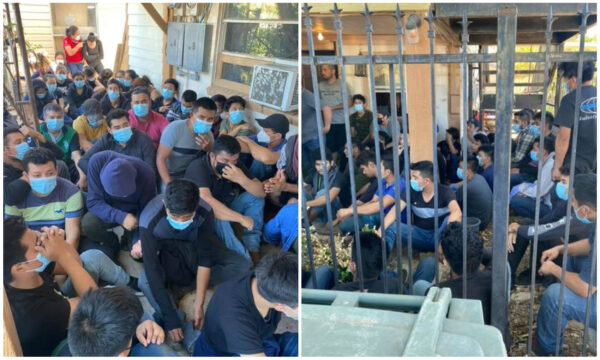 In early May, Houston police discovered 97 illegal immigrants in a suburban house in an alleged human smuggling case, according to the Justice Department. The illegal aliens were from Mexico, El Salvador, and Honduras, and were aged between 21 and 31. Five people have been charged with human smuggling.
Border Patrol agents in the Laredo sector have been involved in dismantling about 140 stash houses since Oct. 1, 2020—a 230 percent increase over the total found during the entire previous fiscal year.
"The rescued were found in very poor conditions," the sheriff's office wrote in a Facebook post.
"We have seen other cases where, due to the heat and cramped areas, situations like this one have led to death," said Webb County Sheriff Martin Cuellar.
Sheriffs and landowners from all over Texas are saying they're stretched for resources to deal with the new influx of illegal activity flowing up from the border.
Uvalde Mayor Don McLaughlin told The Epoch Times that on May 6, a vehicle traveling through town at 140 miles per hour crashed through two buildings while trying to evade law enforcement.
Sheriff Pinky Gonzales of Refugio County, Texas, said he's calculated more than 3,000 deputy man-hours since January to deal with cross-border crime.
"We have just been overwhelmed, overwhelmed with these cases. I have 13 deputies working around the clock, and sometimes I have to call those that are off to come help us," Gonzales said.
Further north, in Lavaca County, Sheriff Micah Harmon said his deputies have dealt with numerous vehicle pursuits and bailouts.
In one recent pursuit, a pickup truck carrying 18 to 20 illegal aliens crashed into a tree and caught fire.
On the state level, Gov. Greg Abbott launched Operation Lone Star on March 6 in response to the burgeoning number of illegal border crossings, as well as human and drug smuggling throughout the state.
During the first four weeks of the operation, Texas Department of Public Safety officers referred more than 16,000 illegal immigrants to Customs and Border Protection and arrested 598 criminals, Abbott said on April 1. In addition, state troopers seized 14 pounds of cocaine, 23 firearms, and almost $1 million in currency and arrested nine gang members involved in smuggling contraband, he said.
Judd said he doesn't see anything on the horizon from the Biden administration that will reduce the trajectory of illegal activity at the border.
"When we do not remove people who crossed the border illegally, that is, in fact, an open border," he said. "And I think that as the American public starts to recognize and realize this, I think that there's going to be a huge outcry. I think there's going to be a huge pushback. Unfortunately, the damage has already been done."
President Joe Biden and Vice President Kamala Harris have said they are concentrating on sending more aid to address the "root causes" of illegal immigration in Central American countries and Mexico.