Sweet garden peas always make me smile. There is something about their prettiness and sweetness that is just so charming.
Also known as English peas or shelling peas, they are great for all sorts of recipes: stirred into pastas, stews, or risottos; made into dips or spreads for crostini; mixed with eggs in omelets and quiches; or roughly pureed as in the classic British "mushy peas." I always add them to my paella, and serve them alongside roast chicken and mashed potatoes. They add bright color and sweet, delicate spring flavor to all kinds of recipes.
At the Market
I use fresh peas whenever possible, as they cook in minutes and maintain that wonderful bright, verdant color. A popular addition to vegetable gardens, peas grow abundantly in vines, but only for a short window in the spring.
Unlike snow peas and sugar snap peas, garden peas have inedible pods and need to be shelled. At my local farmers market, they are sold already shelled, and I grab them whenever possible, but frankly, the little extra effort is worth it in order to get those masses of sweet, green orbs.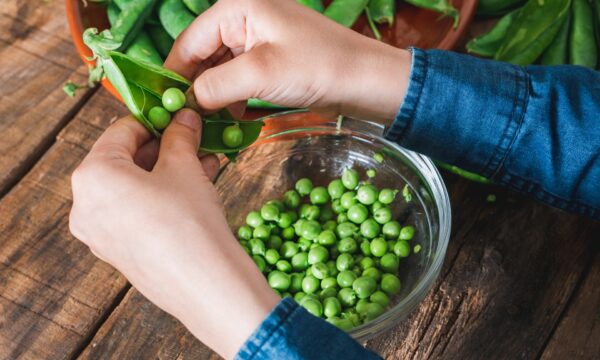 At the market, I look for the smallest of the small—petits pois, young garden peas—as they will be fresh and tender, and cook them just ever so briefly. Their natural sweetness requires little else—a pad of butter and a sprinkle of salt will do. Once shelled, they keep in the fridge for up to three days, so it is best to use them right away. If you're buying peas still in the pod, shell them just before using.
Frozen peas are perfect for soups and stews; I certainly always have a bag or two in the freezer for emergencies. I normally avoid canned peas, as they pale in comparison, in both color and flavor.
Three Recipes to Try
The recipes I am sharing today are all made with English peas, and you can use either fresh or frozen. There is a common thread of pairing them with bacon or pancetta; it just works. The sweetness of the peas is enhanced by the meatiness and saltiness of the ham.
This pea and ham soup is my fresh take on the classic combination. I cook English peas in a flavorful vegetable stock and puree it until smooth, then garnish the final soup with pancetta and croutons. Bright green in color and flavored with a touch of fresh mint, it is perfect served hot for a chilly spring night or cold for a hot summer's evening.
Huevos a la Flamenca, a favorite springtime recipe from Spain, is made using seasonal vegetables—asparagus, peas, and artichoke hearts—cooked in a hearty beef broth with tomatoes and eggs, and then baked, sort of like shakshuka. Garnished with chorizo and bacon, this dish is perfect for a Sunday lunch or as a first course for dinner. Serve it with toasted baguettes to mop up all the sauce!
And lastly, I'm sharing what is now a classic dish at my house, and I'm sure will become one of the most requested recipes in yours, too: a hearty pasta made with peas, bacon, cream, and cheese. Need I say more? I can practically make it with my eyes closed. And yes, it is the best late-night supper ever.
Victoria de la Maza is an award-winning cookbook author, columnist, and international TV host. Passionate about great food, she combines American traditions with her European heritage to create classic-with-a-twist recipes and ideas for stylish entertaining at home.
RECIPE: Fettuccine With Cream, Peas, and Bacon