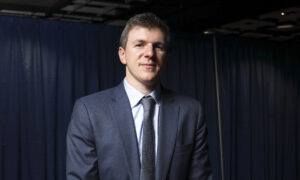 Project Veritas Founder James O'Keefe filed a lawsuit on April 19 alleging that Twitter had defamed him by claiming that he operated fake accounts on the platform.
The lawsuit, filed in the Supreme Court of New York in Westchester County, claims that Twitter knowingly defamed O'Keefe in a statement the company issued explaining his permanent suspension from the platform.
"The false accusation that Mr. O'Keefe operated 'fake accounts' is particularly damaging for Mr. O'Keefe because Mr. O'Keefe is a journalist. As such, his reputation for transparency and accurate reporting is fundamental to his profession," the lawsuit states.
Twitter permanently banned O'Keefe on April 15 without advance notice or an explanation. Shortly after, the social media giant had disseminated a statement to journalists accusing O'Keefe of "operating fake [Twitter] accounts."
Twitter did not immediately respond to a request for comment.
At the time of his suspension from the platform, O'Keefe had more than 926,000 followers. In the days leading up to the ban, he published a series of undercover videos showing a technical director at CNN speaking about the network's campaign to remove President Donald Trump from office and intentional fearmongering over the pandemic for the sake of ratings.
Twitter had suspended two Project Veritas accounts over the course of several days in February. The accounts, Project Veritas and Project Veritas Action, represent separate legal entities, according to the lawsuit. Twitter had explained at the time that the Project Veritas account was suspended due to a video of a journalist from the outfit questioning Facebook Vice President Guy Rosen outside a residence. The company claimed that the video violated its rules concerning the sharing of "private information," an apparent reference to the fact that the video showed the number of the house.
Days later, the social media giant suspended Project Veritas Action claiming that the account was suspended because it was created to circumvent the ban of Project Veritas.
The lawsuit argues that Twitter routinely allows similar content to stay on the platform and that the video of Rosen included no other details about the address of the residence and did not mention that state where the clip was filmed. The lawsuit points to a popular CNN video in which a reporter questions a Trump supporter outside her home about being part of a Facebook group that was allegedly created by a Russian disinformation operation. The video, which has been viewed more than 2 million times, remains on the platform to this day.