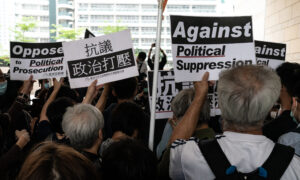 The House of Representatives overwhelmingly passed a resolution on April 19 condemning the communist Chinese regime's continued trampling of freedoms in Hong Kong.
The resolution, passed by a vote of 418-1, was intended to "send a strong bipartisan message demanding that the Chinese and Hong Kong governments respect the will of the Hong Kong people," Rep. Gregory Meeks (D-N.Y.), chairman of the House Committee on Foreign Affairs, said on the House floor on April 19.
Rep. Michael McCaul (R-Texas), the ranking member of the House Committee on Foreign Affairs, emphasized the bipartisan nature of this issue.
"[The] Chinese Communist Party's relentless oppression of the people of Hong Kong is not a Republican or Democrat issue," McCaul said on the House floor. "We are united as Americans in standing with Hongkongers."
The resolution's passing came days after nine veteran pro-democracy activists and lawmakers were sentenced to up to 18 months in prison for organizing and participating in mass anti-Beijing protests in 2019. Their sentences garnered international criticism, including from the United States and Britain, who called for their release. Calling the charges "politically-motivated," U.S. Secretary of State Antony Blinken said the sentencing was yet another example of Beijing and Hong Kong authorities undermining protected rights in Hong Kong "in an effort to eliminate all forms of dissent."
The bipartisan resolution denounced Beijing's use of a "national security law" imposed on the city last July to strip Hongkongers of their previously recognized rights and freedoms.
The vaguely-worded law punishes speech or acts deemed secessionist, subversive, terrorist, or perceived as colluding with hostile foreign political groups or individuals against China's ruling one party state. Since it took effect, dozens of Hong Kong pro-democracy figures have been charged or convicted under the legislation or similar laws, crippling the once-active pro-democracy movement.
Once a vibrant democracy, Hong Kong has seen the steady rollback of its autonomy and freedoms after it reverted from British to Chinese communist rule in 1997—despite a pledge from Beijing to allow the city to retain its civil liberties for 50 years. In the past year, the regime has ushered in a series of measures, including the national security legislation and electoral reforms, that many fear is making Hong Kong no different from mainland cities.
The recently imposed electoral changes mean that just 20 of 90 Legislative Council members will be directly elected by the Hong Kong people and Beijing will retain even tighter control over the body that picks Hong Kong's future chief executives.
The House resolution calls on the U.S. administration to work with allies and partners to hold the Chinese Communist Party accountable, such as through coordinated sanctions.
"We are determined to hold China accountable," House Speaker Nancy Pelosi (D-Calif.) said on the House floor.
The Trump administration last year sanctioned more than 20 Chinese and Hong Kong officials, including the city's leader Carrie Lam, over their role in the crackdown on freedom on assembly and speech in Hong Kong. The Biden administration in March continued this effort by imposing sanctions on 24 Chinese and Hong Kong officials under the Hong Kong Autonomy Act, which was passed in 2020.
Pelosi, speaking at a virtual conference hosted by Washingon-based advocacy group Hong Kong Democracy Council (HKDC) on Monday, reaffirmed Congress's commitment to standing up for Hong Kong.
"We will always continue to speak up about Beijing's crackdown and ensure that the voices that the Chinese government is trying to silence are heard," she said.
Samuel Chu, director of HKDC, told The Epoch Times that despite the escalating crackdown by Beijing and Hong Kong authorities, "people in Hong Kong are not backing down."
"Hong Kong is not quitting. And I think that that is going to continue to be the case," Chu said.
With reporting by Terri Wu.