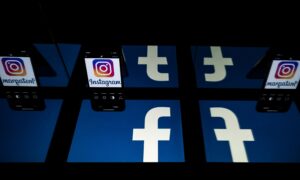 A bipartisan coalition of attorneys general is urging Facebook to abandon its plans to create a platform for children under the age of 13.
The attorneys general sent a letter to Facebook's CEO Mark Zuckerberg arguing that the use of social media can be detrimental to children and that the company had previously failed to protect the welfare of children on its platforms.
"The attorneys general have an interest in protecting our youngest citizens, and Facebook's plans to create a platform where kids under the age of 13 are encouraged to share content online is contrary to that interest," they wrote in their letter (pdf).
This comes after a Buzzfeed report revealed the plans citing an internal company post. The post stated that executives at Instagram were considering building a version of the photo-sharing app for children under the age of 13. Under the current Instagram policy, users must be 13 years or older to use the application.
The top law enforcement officials from 44 states and territories expressed concerns over the plan citing research that links the use of social media by young people could lead to an "increase in mental distress, self-injurious behavior, and suicidality among youth." Other research cited in the letter found that selfie viewing has led to "decreased self-esteem" and "decreased life satisfaction."
The attorneys general also argued that young children are also not equipped to handle challenges associated with having an Instagram account including having an understanding of privacy, the appropriateness of what content can be shared, the permanency of the content, and who has access to content shared online. They warned that cyberbullying could be exacerbated by such a platform.
The officials also cited Facebook's historical failure to protect children in the past on similar projects such as the Facebook Messenger Kids app. That messenger app, the attorneys general argue, contained a glitch that allowed children to circumvent restrictions and join group chats with strangers that were not previously approved by the children's parents.
They also took issue with a recent "mistake" of Instagram's algorithm that promoted diet content to users with eating disorders.
"It appears that Facebook is not responding to a need, but instead creating one, as this platform appeals primarily to children who otherwise do not or would not have an Instagram account. In short, an Instagram platform for young children is harmful for myriad reasons," they wrote.
The letter was signed by attorneys general from Massachusetts, Nebraska, Vermont, Tennessee, Alaska, California, Connecticut, Delaware, District of Columbia, Guam, Hawaii, Idaho, Illinois, Iowa, Kansas, Kentucky, Louisiana, Maine, Maryland, Michigan, Minnesota, Mississippi, Missouri, Montana, Nevada, New Hampshire, New Jersey, New Mexico, New York, North Carolina, Northern Mariana Islands, Ohio, Oklahoma, Oregon, Puerto Rico, Rhode Island, South Carolina, South Dakota, Texas, Utah, Virginia, Washington, Wisconsin, and Wyoming.
Facebook, which owns Instagram, did not immediately respond to a request for comment.