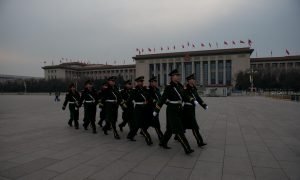 A Chinese lawyer says his family has been threatened and intimidated by Chinese Communist Party (CCP) officials because he provides legal representation to persecuted Falun Gong adherents in China.
Lawyer Lu Tingge made known the intimidation tactics via Twitter on May 6, after he visited his parents, both in their 70s, during the May (Labour Day) holidays.
According to Lu, the officials refused to identify themselves or where they work—only revealing they were "upper level" officials—when they visited the lawyer's elderly parents to tell them their family would be in trouble if Lu continued to defend Falun Gong adherents in court.
The men were "led into the house" by Village Party Secretary Wang Xishuang, Lu said.
Two days later, at noon on April 26, Wang sent another official once again to their home, telling Lu's parents that his efforts to defend Falun Gong adherents amounted to going against the Chinese regime and would not end well. Lu, the official allegedly said, was putting at risk vital matters, such as his family members' eligibility to go to school or seek employment, by taking up Falun Gong cases.
Falun Gong, also known as Falun Dafa, is an ancient spiritual practice from the Buddhist tradition consisting of slow-moving meditation exercises and moral teachings that incorporate the principles of truthfulness, compassion, and forbearance. Official estimates in the 1990s put the number of adherents between 70 million to 100 million in China at the end of the decade.
Threatened by the practice's immense popularity, the CCP launched a systematic campaign to eradicate Falun Gong in July 1999. For the last 22 years, millions have been detained in prisons, labor camps, and so-called reeducation facilities—with hundreds of thousands reporting that they experienced torture while incarcerated, according to the Falun Dafa Information Center.
Lu told The Epoch Times that it was illegal and unethical for the authorities to harass and intimidate his parents, but said they deliberately did that to cause fear and disputes within his family.
"The other thing is that they are obviously aware that what they did was illegal, so they didn't dare to do it openly," Lu said. "They came to my house without identifying themselves, and what they did was not only against the law but also shameful."
Regarding the threats from the local authorities, Lu said, "I've been acting on behalf of my clients fully legally. They can't stop me like that."
Lu, a lawyer based in Shijiazhuang, the capital of Hebei Province, has experienced retaliation a number of times for the large number of Falun Gong adherents he has represented over the years—so has his family.
In 2017, Lu was beaten into a coma by the police while representing Falun Gong adherents in Huili county, Sichuan Province. His office computer and cell phone were also seized. He sought justice through judicial means for years to no avail. The harassment began after Lu filed a report against officials from the Judicial Bureau for illegally interfering with his right to practice law, and for harassment of his parents.
Two years later, in 2019, authorities disappeared Lu for several days after he launched a petition to improve the legislative system just days for the start of the two annual plenary sessions of Beijing's rubber-stamp legislature, the National People's Congress, and the Chinese People's Political Consultative Conference (CPPCC). The petition was titled "Suggestion for Constitutional Amendments."
Last year, Lu refused to be coerced by the police to withdraw from representing 12 Hongkongers detained by the Chinese authorities for allegedly trying to escape to Taiwan to claim political asylum.
The authorities have allegedly illegally subpoenaed and detained Lu several times for his online posting. In response, Lu filed a lawsuit against the heads of Shijiazhuang Judicial Bureau and Hebei Provincial Department of Justice.
Lu said that he will continue using litigation and other legal means to defend his rights. "I must be ready to stand up for my rights, otherwise, they would arrest and detain me at will," he said.