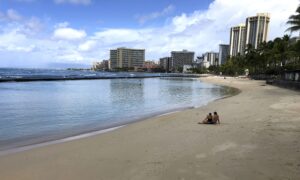 Sunnier skies are ahead for passengers at John Wayne Airport, where travelers can now catch nonstop flights to Hawaii.
United Airlines began on May 6 offering daily, nonstop flights between the Santa Ana airport and Honolulu.
Flights will be operated with a Boeing 737-700 aircraft.
"This is the first new route we've launched from Orange County since before the pandemic, so it's an exciting day for us and our customers," Patrick Quayle, United's vice president of international network and alliances, said in a press release.
"We know everyone is dreaming of summer getaways and we want United to be their top choice for the most seamless travel experience to Hawaii. Customers traveling from Orange County will not only benefit from saving travel time with this new nonstop service, but with a valid negative COVID-19 test they can be pre-cleared, skip the document screening process in Hawaii and start their vacation immediately."
John Wayne Airport boasts more than 30 nonstop destinations throughout the U.S. and Mexico, said its director Barry Rondinella.
"As more people take to the skies and make plans for the summer travel season, we're excited to welcome the addition of Honolulu, Hawaii … [and] provide even more travel options to our guests who rely on us for unparalleled service and convenience," Rondinella said in a press release.
Travelers must show proof a negative COVID-19 test and complete a pre-travel test within 72 hours from the final leg of departure, or otherwise undergo a 10-day quarantine once arriving in Honolulu.
United said it is making the approved tests available to all customers travelling to the islands, no matter where in U.S. that they are travelling from.
Travelers who have a valid negative COVID-19 test can show their results before boarding to save time and skip document screening lines upon arriving in Hawaii.