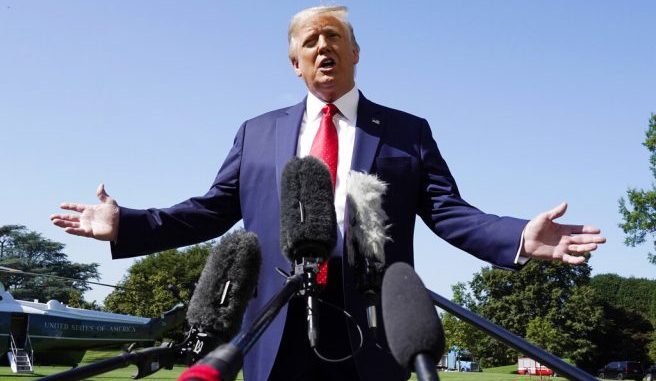 OAN Newsroom
UPDATED 9:53 AM PT – Monday, August 17, 2020
President Trump said he's just making the U.S. Postal Service "good" amid recent changes and controversy surrounding the postmaster general.
In an interview Monday, the president called Postmaster General Louis DeJoy "a very good businessman." He pointed out that the Postal Service has lost tens of billions of dollars over the last 10 to 12 years.
President Trump also called Amazon one of the biggest problems with the Postal Service and said it loses massive amounts of money by delivering their packages. He also said the Postal Service has been run like a disaster for many years.
"It costs us every time they (Amazon) drop a package," stated the president. "It costs us like $3 to deliver the package for them…we're losing a fortune."
Meanwhile, Democrats on the House Judiciary Committee have called for a criminal inquiry into the postmaster general.
In a letter Monday, New York Rep. Hakeem Jeffries and California congressman Ted Lieu called for the FBI director to open a criminal probe into DeJoy. They claimed he's slowing the mail by dismantling sorting machines to give President Trump an advantage in the November elections.
.@POTUS & Postmaster General @LouisDeJoy's efforts to dismantle @USPS with nationwide service delays & other issues threaten an essential govt service relied on by millions of Americans. We're calling on the @FBI to investigate. #DontMessWithUSPS

Our letter with @RepJeffries ⬇️ pic.twitter.com/PmEV1NnWFG

— Rep. Ted Lieu (@RepTedLieu) August 17, 2020
The lawmakers cited the president's attacks on mail-in voting and claimed it's an attempt to hobble the Postal Service as voters seek to use it due to the coronavirus pandemic.
With the U.S. Postal Service in jeopardy, the House of Representatives scheduled a last-minute emergency hearing.