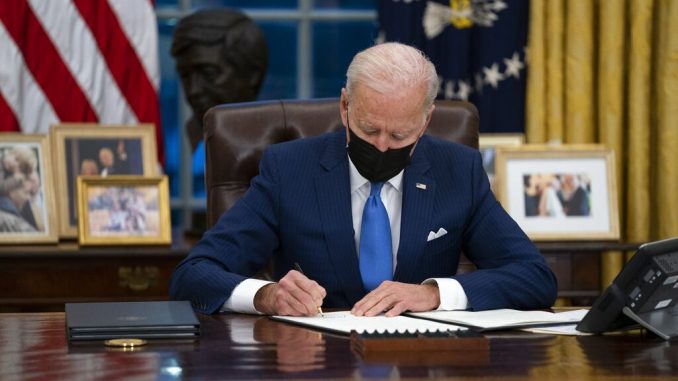 OAN Newsroom
UPDATED 7:15 PM PT – Tuesday, February 23, 2021
The Biden administration's approach to domestic and international energy has been facing heavy scrutiny. Speaking on the Senate floor Monday, Sen. Dan Sullivan (R-Alaska) characterized the policies as an assault on middle class Americans.
"The first few days of the new Biden administration have seen an unprecedented assault on resource development and energy jobs," Sullivan stated. "An attack on the men and women, working men and women with good wages who produce really important resources for this great nation, and now for other countries because we export a lot of these resources."
This is a stark contrast to President Trump's "America First" energy policy, which prioritized domestic production. During Joe Biden's first day in office, he shut down the U.S.-Canada Keystone pipeline, killing nearly 11,000 jobs over so-called "environmental justice."
Sullivan went on to refute claims that America's oil and gas production is hurting the planet.
"It is great for the environment. Why do I say that? Some people tilt their heads. It is great for the environment because in America, certainly, in my state, Alaska, we have the highest standards on the environment of any place in the world by far. It is not even close," Sullivan stated. "If you need energy, which you do, you should do it, produce it in the place that respects the environment the most, not Russia, not Saudi Arabia, America, Alaska."
In the meantime, Biden's energy policies overseas are being criticized for being lukewarm. This came as the White House weighs whether to keep Trump-era sanctions against Russia's Nord Stream 2, a gas pipeline that runs under the Baltic Sea to Germany.
According to reports, the Biden administration has not yet made a decision over concerns that maintaining sanctions would hurt U.S. ties with Germany. Many worry the project, once completed, would increase Russia's leverage over Europe.
In a statement on Monday, an aid to Ukrainian President Volodymyr Zelensky told Axios they're "disappointed" with the Biden administration for not stopping the project.
The pipeline would bypass Ukraine and deprive the country of lucrative transit fees.
Construction of the Nord Stream 2 was halted as a result of President Trump's tough sanctions. However, Biden's indecision has prompted Russia to resume the project, which is now over 90 percent complete.