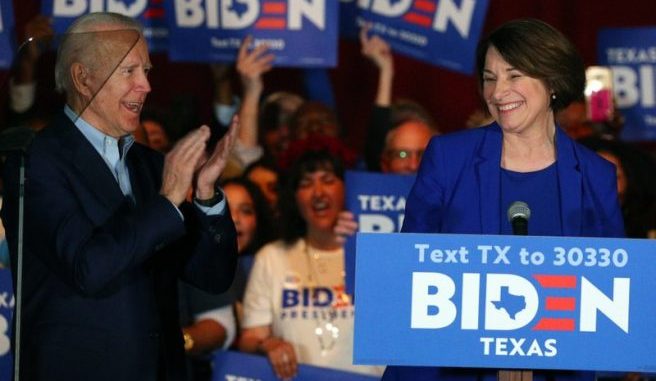 OAN Newsroom
UPDATED 1:20 PM PT — Saturday, May 30, 2020
Amy Klobuchar's prospects of becoming Joe Biden's vice president pick have come into question as public outrage over the death of George Floyd continues in her home state.
Progressive advocacy group Move On is one of the Minnesota senator's major critics. They have called for her to remove herself from consideration for the post.
In a tweet, they claimed Klobuchar failed to hold the Minneapolis Police Department accountable for alleged racism and abuse while she was a prosecutor for Hennepin County. This was same county that brought down third-degree murder charges against Derek Chauvin in connection to Floyd's death this week.
Given the role @amyklobuchar played as @Hennepin County prosecutor, including her failure to hold the @MinneapolisPD accountable for racism and abuse, she should immediately take herself out of the running to be @JoeBiden's VP. https://t.co/PQQeCJDWcF

— MoveOn (@MoveOn) May 29, 2020
This came after Klobuchar's latest statement, which demanded police accountability. However, critics have accused her of failing to prosecute Chauvin when he was allegedly involved in a police shooting case in 2006.
Klobuchar's spokeperson responded by saying the incident occurred near the end of her term just before she joined the Senate. The senator has since attempted to defend her record against mounting criticism.
"There is institutional racism. Since I've gotten to the Senate, I've been one of the leaders in terms of pushing for sentencing reform, to reduce sentencing for non-violent offenders, a leader on voting rights. That's my record." – Amy Klobuchar, U.S. Senator (D-Minn.)
In the meantime, Biden recently came under fire for racially insensitive comments he made during an interview last week regarding black voters.
Some have claimed Biden's decision to choose a running mate who will appeal to African American voters has become exceedingly important. Others have gone so far as to label Klobuchar "toxic" to the former vice president's campaign.
Biden has not commented on whether he is still considering Klobuchar for vice president. When asked about whether she would withdraw her name from consideration, the senator stated she would leave the decision up to Biden.
"Joe Biden will decide who he wants in this job, my focus right now has been on my city," she said. "I have not been able to defend myself against attacks about cases that, I think, were unfair, because my focus has been on fairness for George Floyd's memory, for his family and for our community to heal."