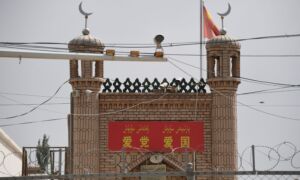 The Chinese regime's foreign ministry spokeswoman slams a scheduled U.N. virtual event on the repression of Uyghur Muslims and other minorities occurring in Xinjiang as an insult to the institution on May 10. This, after attempts to ambush it.
The Chinese regime urged U.N. member states to boycott the event prepared by Germany, the United States, and Britain that is planned for May 10.
Hua Chunying said, "The U.S. and the few countries it has assembled are abusing the resources and platform of the U.N. to smear and attack China to serve selfish political interests," at a daily news conference in Beijing on May 10.
"This is a shameful travesty of the UN," she said.
Then, Hua described the U.S. concerns about the Chinese Communist Party's (CCP) coercive treatment of its own people as "a weasel paying respect to the hen without the best of intentions."
In a note by its U.N. mission, dated May 6, the Chinese regime warned of more confrontation. "It is a politically motivated event … we request your mission NOT to participate in this anti-China event." The CCP charged the organizers with wanting to "create division and turbulence and disrupt China's development."
The ambassadors of the U.S., Germany, and the U.K. will address the virtual U.N. event, along with the Human Rights Watch executive director, Ken Roth, and the Amnesty secretary general, Agnes Callamard.
The aim of the event, as stated in the invitation, is to "discuss how the UN system, member states, and civil society can support and advocate for the human rights of members of ethnic Turkic communities in Xinjiang."
According to activists and human rights experts, more than one million Uyghurs, and other ethnic minorities, have been held in Chinese internment camps since 2017, which the communist regime defends as "vocational training schools."
Such facilities are accused of being used to forcibly assimilate ethnic minorities, including local officials and intellectuals, sometimes through torture and forced labor. Mass rapes and the forced sterilization of women are also alleged to take place in the camps.
Foreign ministers from the U.K., Germany, and other members of the G7 group of countries meeting in London unequivocally condemned "human rights violations and abuses in Xinjiang and in Tibet, especially the targeting of Uyghurs, members of other ethnic and religious minority groups, and the existence of a large-scale network of 'political re-education camps,' and reports of forced labor systems and forced sterilization."
In January, Washington banned the import of cotton and tomato products from Xinjiang over allegations of forced labor.
The CCP has denied and accused the critics from western countries of pushing an anti-China agenda.
Reuters contributed to this report.