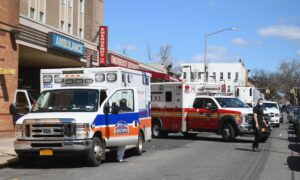 The death of a 12-year-old New York City boy is being investigated by police as his family members say that classmates fatally beat him.
Romy Vilsaint, the boy, was complaining of head pain after reports said he was punched at school, officials told local media. He died last week at Kings County Hospital in Brooklyn after he was taken by EMS, according to the New York Daily News, citing officials.
Romy's father, Romain Vilsaint, said his son was very sick in the hours leading up to his death.
"He was a great kid and so smart. He never had any problems with anybody. We love him very much. I don't know what to say," Vilsaint, 59, told the Daily News.
"They beat my son in the school. They kill[ed] him," he also said, according to the New York Post. "Oh God, I lost my son, I lost my son."
The Medical Examiner told the NY Post Saturday that the boy's cause and manner of death were "pending further studies, but there is no trauma."
His cousin, Roodwiny Exantus, elaborated on the incident.
"He stated that he got jumped by two kids on Wednesday, and on Thursday, he got hit in the back of the head real hard," Exantus told CBS New York. "The principal asked the kid why he did that. The kids were like, he got a paid a dollar to do it … He had a severe headache, and he had to spend the rest of the day in the nurse's office in the school."
Exantus suggested that the school didn't act in an appropriate manner.
"The school called the dad, but he was at work so he didn't pick up the phone," Exantus remarked. "To me, they did something wrong. Like, if the kid got hit in the head and he couldn't come back to class and you're told it's severe … you don't need to wait for his dad's permission, just take him out to the hospital."