PG-13 | 1h 37min | Drama | 26 February 2021 (USA)
There are some basic issues that we all think about from time to time: our own mortality, the meaning of our existence, what happens after death, and so on. But many of us have also thought about the mortality and decline of the elders we are related to and love dearly.
Questions will eventually arise that concern the care of our elderly loved ones, especially those whose minds begin to erode as time passes—much like wind blowing away a pile of sand, one grain at a time.
"The Father" is an incredibly moving story about a once-proud man whose mind is exhibiting signs of dementia. Thankfully, this film doesn't contain clichéd filmmaking tropes when it comes to deeply emotional subject matter such as this. You won't see any hazy flashbacks, disorienting camera pans, other vertigo-inducing camera trickery, or overly saturated vignettes. Instead, the unsettling moments come from the gradual loss of one person's grasp of reality.
The film opens with an ever-dutiful daughter, Anne (Olivia Colman), paying her father, Anthony (Anthony Hopkins), a visit at his upscale London flat. From the place's furnishings, we can see that Anthony has had a life of prestige and importance.
Indeed, as he and his daughter trade quips, we glean that Anthony still has stubborn pride. We also learn that Anne is his primary caregiver. During these opening scenes, we see that although Anthony has some memory lapses, his condition doesn't seem too extreme.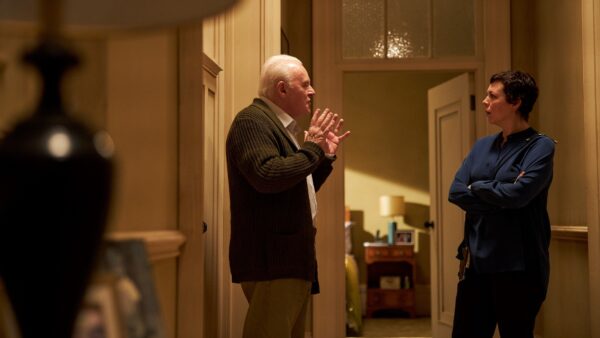 Anne has met a man named Paul (Rufus Sewell), with whom she plans to move away to Paris. Anthony seems surprised by the news, but Anne assures him that she has already discussed the matter with him.
It is also revealed that they've tried out multiple caregivers for Anthony, but due to the difficulty of handling his stubbornness and mental condition, none have lasted very long. It doesn't help that he keeps telling Anne that the caregivers steal valuable items from him (events that take place only in his altered imagination).
Desperate to find someone who can handle the job, Anne brings in a potential caregiver, Laura (Imogen Poots), to meet Anthony. Here, we see flashes of Anthony's ingratiating charm as he flirts with Laura and even breaks out into dance—telling her that he used to be a famous tap dancer. But as soon as he's delighted Laura, he turns around and becomes hurtful and offensive toward her, embarrassing Anne in the process.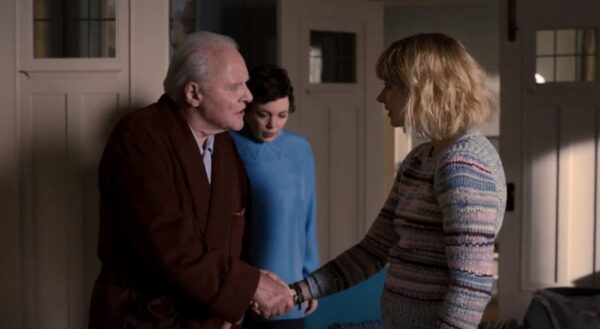 Due to her concern for Anthony's rapidly declining state, Anne decides to move her father into the apartment she shares with Paul. Paul isn't too pleased with the situation and is unkind to Anthony, especially after downing copious amounts of wine.
Paul feels as though he and Anne should shove Anthony into a care center so that they can move on with their lives together. He backs up his spitefulness by reminding Anne that Anthony's doctor has recommended putting him into a facility.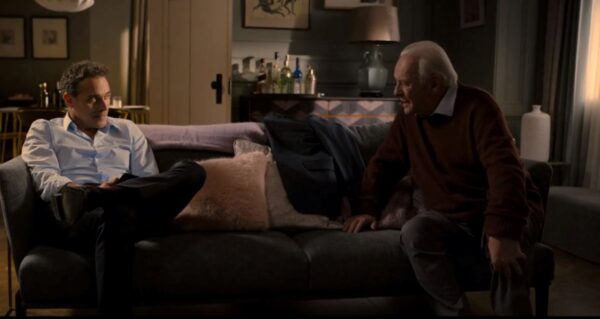 Although increasingly saddened by her father's failing state, Anne remains resolute in her conviction to keep Anthony out of a care facility. It seems as though she would view backing out on Anthony as a betrayal (and probably her own failure). But as Anthony becomes increasingly difficult to manage, will her patience and dedication be able to withstand the mounting pressure?
One of the things that's incredible about this film is how it never quite settles into a comfortable cadence. Although it has some slower moments of beautifully structured dialogue between its phenomenal cast, the film—through Anthony's mind—shows random characters appearing at the same locations or different ones, at different times, to interact with him. The whole effect gives one a sense of extreme unease because you never really know what's going to happen next.
There are plenty of films about aging, as well as ones about people losing their minds. However, I've never seen a film as well-acted and unflinchingly realistic as this one, as well as thought-provoking. In the end, I hope "The Father" inspires people to appreciate their lives (and health) a little more, and also have gratitude for all of the good times they have with their loved ones while they're still here, both physically and mentally.
'The Father'
Director: Florian Zeller
Starring: Anthony Hopkins, Olivia Colman, Rufus Sewell
Rated: PG-13
Running Time: 1 hour, 37 minutes
Release Date: Feb. 26, 2021 (USA)
Rated: 4.5 stars out of 5

Ian Kane is a filmmaker and author based out of Los Angeles. To learn more, visit DreamFlightEnt.com or contact him at Twitter.com/ImIanKane