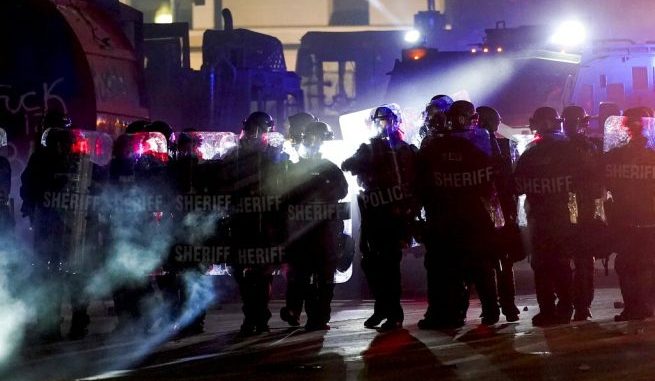 OAN Newsroom
UPDATED 2:30 PM PT – Thursday, August 27, 2020
Wisconsin's governor has deployed additional National Guard members to help contain protests in Kenosha. On Thursday, Tony Evers announced more members from Arizona, Michigan and Alabama are headed to the city to support law enforcement.
Evers recently requested other states send guard members, equipment and resources to assist. According to officials, these officers are state guard members, not federal agents.
"They will be here and hopefully be assisting us as early as tomorrow night, in some cases. For clarification, I want to also say those National Guard members, much like the Wisconsin National Guard, are not federal troops. They're here on state active duty. They're here through mutual aid agreement, a compact between the states, specifically the governors. They will be under my command." – Major General Paul Knapp, leader of the Wisconsin National Guard
The Wisconsin National Guard has been on duty in Kenosha since Monday, when protests broke out over the death of Jacob Blake.
Counselor to the President Kellyanne Conway has suggested these violent protests will lead to President Trump's reelection. According to Conway, the more chaos and anarchy there is, the more people will want a leader who represents public safety, law and order.
She went on to say President Trump is that leader and highlighted his effort to stop the violence.
"He doesn't want anybody to participate in violence. That's why he is calling for law and order, respecting the police, saying we're not going to defund the police ever. His vice president made that very clear yesterday. The president will make that clear tonight, most likely. We defend the police, we don't defund the police."
– Kellyanne Conway, Counselor to the President of the United States
She also dismissed claims the president is responsible for the unrest. The adviser pointed out most of the violent protests have occurred in Democrat led cities and states.
President Trump will reportedly address the ongoing protests against racial injustice in Kenosha and other cities during his speech at the RNC.
Campaign communications director Tim Murtaugh has confirmed the president will weigh in on the issue Thursday night as he accepts the GOP nomination.
Vice President Mike Pence addressed the violence during his nomination acceptance speech the night before. He stated too many heroes have died defending our freedoms to see Americans strike each other down.
Vice President Pence: Under President Trump, we will stand with those who stand on the Thin Blue Line, and we're not going to defund the police—not now, not ever.#RNC2020 pic.twitter.com/NU0Og0fvVA

— Team Trump (Text VOTE to 88022) (@TeamTrump) August 27, 2020