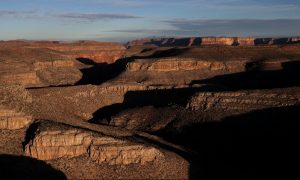 A Washington state man faces federal charges after allegedly organizing a large group hike at the Grand Canyon in violation of COVID-19 restrictions and other rules, according to court documents.
Joseph Don Mount took around 153 people to the canyon in October for a rim-to-rim hike, according to a complaint filed this week in U.S. Magistrate Court in Flagstaff, Arizona.
During the pandemic, rim-to-rim group sizes through Grand Canyon were limited to 11 people, down from an earlier cap of 30.
U.S. Park Ranger Timothy Hopp alleged in an affidavit that Mount "knowingly and willfully encouraged participants to travel through the canyon despite advisements from park officials to the contrary, provided participants with tips and information to circumvent park laws, and denied leading any large-scale rim-to-rim groups to investigating park officials."
Mount allegedly spent months planning and organizing the October excursion, and collected thousands of dollars from participant registration fees for a range of services, including hotel lodging and guide services.
In September, authorities received a pseudonymous tip from someone calling themselves "Asher Lawden," who submitted several Facebook screenshots as evidence supporting the claim that a "100+ person rim-to-rim hiking group" had been scheduled for Oct. 24.
Hopp said in the affidavit that, in one screenshot, Mount posted about 112 "committed hikers coming from 12 different states" while in another he wrote, "If you want to keep inviting friends, I am determined to make this work for as many who want to go!"
Subsequent screenshots provided by the tipster revealed awareness of "precautions" that the group would need to take to avoid being challenged by authorities for being part of an unauthorized group.
"A natural spread might be best. Will research this more and present details/meet ups/hiking plans in posts to follow over the coming weeks," Mount allegedly wrote, the affidavit states.
Hopp added in the affidavit that despite evidence to the contrary, "Mount denied to a park official that he was planning any sort of large-scale rim-to-rim hike."
Ahead of the hike, Mount exchanged emails with Catherine Mosseller of the Grand Canyon Commercial Permits Office, saying Mount inquired about splitting up a hiking group to accommodate size limits, and was told "this was not allowed."
Following the interaction between Mount and Mosseller, prosecutors say Mount allegedly posted on social media that the trip was still happening and continued planning.
When contacted by park officials about his plans, Mount said he was hiking with only 10 of his "closest friends and family."
On the day of the hike, park rangers spotted larger groups, with at one point about 70 people gathered in a single location.
"In my seven months of work … I have never … witnessed so many individuals traveling in the same direction in such a condensed period of time and space," ranger Cody Allinson said in the affidavit.
Mount has been charged with five counts: giving a false or fictitious report, intentionally interfering with a government employee, soliciting business in a park without a permit or contract, violating regular public use limits in the Grand Canyon, and violating COVID-19 restrictions, according to charging documents.
He is scheduled to appear before a court later this month, according to reports.