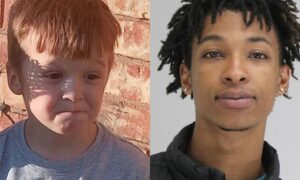 Officials identified a 4-year-old boy who was found dead on a street in Dallas as Cash Gernon, and police they said was being taken care of by the girlfriend of Cash's father, according to a news release.
"There has been a misidentification of Ms. Monica Sherrod as to being Cash's biological/Stepmother. Cash was left in the care of Ms. Sherrod by his father unbeknownst to his biological mother, Ms. Melinda Seagroves. According to Ms. Sherrod, she has not been able to contact the father since his departure from her residence in March 2021," according to the news release.
The release added: "Meanwhile, Ms. Seagroves, with the help of her mother Ms. Connie Ward, has been conducting an extensive search for her sons for an extended amount of time."
Cash's brother has been reunited with Seagroves, they said, adding that "fraudulent GoFundMe accounts" have been set up.
Several hours before a 4-year-old boy was found deceased on a street in Dallas, a man was seen taking the boy from his bed and carrying him away, according to home surveillance footage cited by court documents.
The girlfriend said the person who took the child from his bed on Saturday was 18-year-old Darriynn Brown, officials said, reported Fox News and other media outlets.
The boy was found dead hours later in a street. Dallas Police then opened a homicide investigation and later arrested Brown in connection to the crime, police officials said. They arrested him on kidnapping and burglary charges, but officials anticipate charging him with homicide in connection to the child's death.
Officials said in the documents that the girlfriend who was allegedly taking care of Cash said the boy's father hasn't been around since March, according to Fox News.
Brown's mother told CBS11 that her son has mental health problems but said he was not capable of violence.
"I think that 4-year-old boy was killed at them people's home and I believe someone had transportation, like a car or truck, and transported his body to the body site," the woman, who wasn't named, said, according to the station.
Neighbors of Brown, however, said he was known for causing trouble in the neighborhood.
"This guy here is on NextDoor where he's busted into cars, ring doorbells, he threatened other people's lives," said neighbor Joe Bubel, according to the station. "People are asking, why didn't the police pursue that? That's just his side of the story. I don't know the other side of the story."
It's unclear what relationship—if any—Brown has with Cash's family.
Brown's bond was set at $1.5 million.