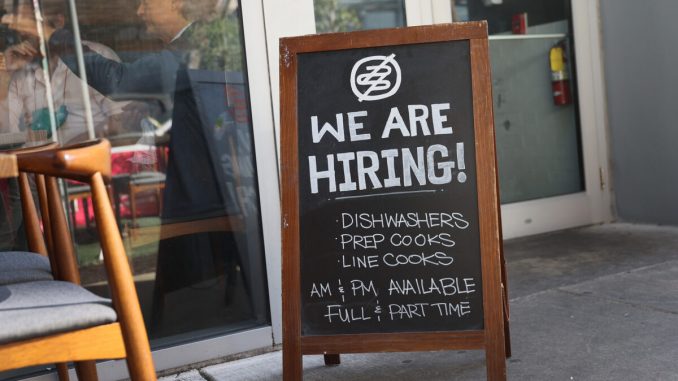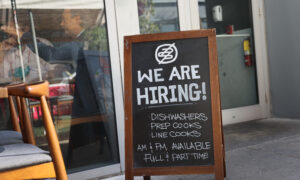 The U.S. Chamber of Commerce called on the White House to end expanded federal unemployment benefits that were implemented during last year's pandemic relief efforts, saying the extra monthly payments are hurting the economy by keeping workers out of the labor market.
On Friday, the Department of Labor reported just 266,000 new jobs created in April, which is far lower than the 1 million jobs that were expected by some analysts.
Now, the U.S. Chamber of Commerce, one of the largest business lobbying groups, said that it's "clear that paying people not to work is dampening what should be a stronger jobs market" and argued that the $300 weekly extra payments are keeping people from working.
"We need a comprehensive approach to dealing with our workforce issues and the very real threat unfilled positions poses to our economic recovery from the pandemic," said the group's executive vice president, Neil Bradley. "One step policymakers should take now is ending the $300 weekly supplemental unemployment benefit. Based on the Chamber's analysis, the $300 benefit results in approximately one in four recipients taking home more in unemployment than they earned working."
President Joe Biden was asked by a reporter Friday in the East Room of the White House about whether the enhanced unemployment benefits are hurting the U.S. recovery. He said, "No."
Meanwhile, Republicans used the weak jobs report to say that the benefits are too generous.
"The government pays people big bucks NOT to work so they don't!," Rep. Mo Brooks (R-Ala.) wrote on Twitter. "DUH! Socialism seems nice but in fact is destructive. America: learn or lose!"
Democrats said that companies aren't offering high-enough wages or subsidized childcare programs, while some say that the report suggests that Congress needs to pass Biden's infrastructure bills.
"Wages have not risen yet and part of the reason people aren't getting back in is that wages haven't adjusted," Rep. Ro Khanna (D-Calif.) told MSNBC, saying Congress needs to pass a bill that would double the federal minimum wage to $15 per hour.
Before Friday's report from the Labor Department, Montana and South Carolina already moved to end the expanded benefits.
"South Carolina's businesses have borne the brunt of the financial impact of the COVID-19 pandemic. Those businesses that have survived—both large and small, and including those in the hospitality, tourism, manufacturing, and healthcare sectors—now face an unprecedented labor shortage," South Carolina Gov. Henry McMaster, a Republican, said in a letter to the Department of Employment and Workforce.
Perhaps in the clearest illustration of the unusual job market, the operator of McDonald's franchises in Florida said last month that he was offering $50 for people just to show up for a job interview but is still struggling to find applicants. Blake Casper, the franchisee, said it's the unemployment benefits that are causing the downturn.
"The biggest challenge out there is the federal government and the state government are going to continue with this unemployment, because that is truly creating the incentive to not work right now," Casper said in an interview. "And, how do you blame somebody? You can make more money on unemployment—and so, we've got to be at least above that."