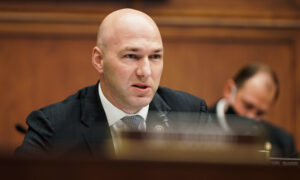 The Ohio Republican Party censured and called for the resignation of Rep. Anthony Gonzalez (R-Ohio) for his vote to impeach former President Donald Trump earlier this year.
On Friday, the state GOP's governing board called on Gonzalez to resign after a divided vote. They also voted to censure him and nine other Republicans who impeached Trump and lent "their votes to support the unconstitutional, politically motivated impeachment proceeding against" him, according to the resolution.
Gonzalez "resorted to emotional conclusions that misplaced blame on President Trump, the President of Law and Order and America First," their resolution read. "We believe that Congressman Gonzalez knowingly and willfully violated his oath of office."
A spokesperson for the Ohio GOP confirmed to news outlets that Gonzalez and the nine other Republicans who impeached Trump were censured and called for Gonzalez's resignation. The Epoch Times has contacted the Ohio Republican Party and Gonzalez's office for comment.
"Over the long arc of history," Gonzalez said earlier this year when he voted to impeach Trump, "I believe that this is the right vote, and I believe it sends the right message to all future presidents and anybody who considers taking the Oval Office."
The state GOP's vote Friday echoes similar votes to rebuke or censure several other Republican impeachment-supporting House members by local or state parties. Five out of the seven GOP senators who voted to convict Trump in February have faced similar blowback.
And in late February, Trump, in a speech to the Conservative Political Action Conference (CPAC), sharply criticized Republicans who joined Democrats in the impeachment efforts.
The former president earlier this year threw his support behind his former aide Max Miller for Gonzalez's seat. Miller on Friday said the GOP "has voted to hold Anthony Gonzalez accountable for abandoning his constituents, his promises and the Republican Party," adding that "regardless if he resigns or not we are going to continue spreading our strong, pro-Trump, America First message to every corner of this district."
The Ohio GOP's censure motion also listed the other House Republicans who impeached Trump: Reps. Liz Cheney (R-Wyo.), Tom Rice (R-S.C.), Dan Newhouse (R-Wash.), Jaime Herrera Beutler (R-Wash.), Adam Kinzinger (R-Ill.), Fred Upton (R-Mich.), Peter Meijer (R-Mich.), David Valadao (R-Calif.), and John Katko (R-N.Y.).
The move by the Ohio Republican Party shows Trump has enduring support among Republicans even after he was impeached and left office. The former president defeated President Joe Biden by about 8 percentage points in Ohio in 2020.
Cheney, the daughter of former Vice President Dick Cheney, perhaps has the most to lose of the Republicans who impeached Trump after House Minority Whip Steve Scalise (R-La.) said earlier this week that he would back Rep. Elise Stefanik (R-N.Y.) to replace her as head of the House Republican Conference. Separately, House Minority Leader Kevin McCarthy (R-Calif.) told Fox News that a number of Republican House members have questioned Cheney's leadership ability after her frequently critical comments about Trump.