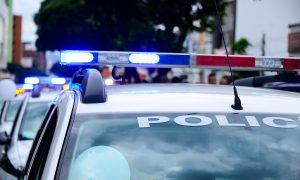 At least seven people were killed, including a suspected gunman, during a birthday party over the weekend in Colorado Springs, Colorado.
Colorado Springs Police said in a news release Sunday that a suspect drove to the party, located inside a mobile home community, and entered the residence before shooting at around 12:18 a.m. Sunday morning. Officials said that the suspect, who wasn't named, is believed to be the boyfriend of one of the victims.
"This is something you hope never happens in your own community, in the place that you call home," Colorado Springs Police Chief Vince Niski said. "When these types of unspeakable acts happen, there is nothing that can be done to fully rebuild what was lost or replace those who are no longer with us."
Authorities believe the gunman also took his own life following the shooting.
Officials said that there were children attending the party who were not injured. Police said the children are now with family members, according to a police news release.
"Today we find ourselves mourning the loss of lives and praying solemnly for those who were injured and those who lost family members in a senseless act of violence on Sunday morning," said Colorado Springs Mayor John Suthers in a statement. "We think too of the emergency personnel who responded to a horrific scene and we keep them in our prayers today. We ask the public's patience with the investigation and we seek the sensitivity of our media partners as CSPD completes a thorough investigation to provide answers to the families and friends impacted by this tragedy."
The names of the victims and the suspect will be released at a later date by the local coroner's office, officials said.
Anyone who has information about the shooting can call the Colorado Springs Police Department at (719) 444-7000 or Crime Stoppers Tip Line at (719) 634-STOP (7867) or 1-800-222-8477.
The latest shooting in Colorado is sure to prompt calls for new gun-control legislation at the state and federal level.
Several weeks ago, a gunman opened fire at a supermarket in Boulder, Colorado, killing 10 people. After that incident, as well as a mass shooting incident in Atlanta, President Joe Biden and Democrats in Congress issued a series of gun-control proposals, while the House of Representatives passed two gun background check laws.
Colorado Democrats in the state Legislature also introduced three new gun-control measures in May, including a bill that would require licensed gun dealers to obtain approval from the Colorado Bureau of Investigation on whether a background check is complete before a firearm can be transferred.
One bill would rescind a state law prohibiting a local government from imposing bans on selling, purchasing, or possession of a firearm; and another bill would create a state Office of Gun Violence Prevention to "coordinate and promote effective efforts to reduce gun violence and related traumas and promote research regarding causes of, and evidence-based responses to, gun violence."