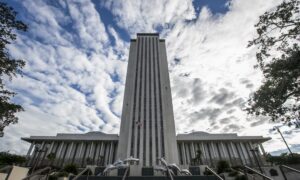 A Florida man who called for surrounding supporters of former President Donald Trump was convicted Thursday of issuing threats to kidnap or injure.
Daniel Baker issued a "call to arms" for other leftists to violently confront protesters at Florida's Capitol.
"Armed racist mobs have planted the Confederate flag in the nations [sic] Capitol while announcing their plans to storm every American state Capitol on or around inauguration day," Baker wrote on Facebook on the "Defend Tallahassee" page, which he created, on Jan. 12 "We will fight back. We will circle the state Capitol and let them fight the cops and take the building. Then we will encircle them and trap them inside."
"We will drive them out of Tallahassee with every caliber available. They are staging an armed takeover so only an armed community can stop them! We can win! We have a duty to and a duty to win," he added.
Baker said he had already recruited military veterans and urged anyone else who could to show up and help.
Before posting the call, Baker had bought an AK-47-style .22 caliber semi-automatic rifle and ammunition, according to court documents. He once served in the military.
Baker posted a similar missive on the page of WTXL, a local news station, in response to an article about the Tallahassee Police Department being prepared for any Inauguration Day protests.
No large gatherings occurred at the Florida Capitol on Jan. 20.
Baker, who has described himself as a member of Antifa, a far-left, anarcho-communist network, told jurors this week that he was joking.
"After being harassed continuously for the past five years, if I create this presence of the far-left boogey man that the far-right believes is an Antifa super soldier, they'd be less likely to do a drive-by and shoot at me," Baker said.
He also claimed he had not planned on attacking anyone unless he was attacked first, or if law enforcement was in need of reinforcement.
Stephen Kunz, an assistant U.S. attorney, told the jury that the claim clashed with what Baker wrote on Facebook.
"In the last two years, Mr. Baker's rhetoric has gotten out of control to the point law enforcement had to step in. This isn't a joke," Lazaro Fields, another prosecutor, said in closing arguments.
Baker faces up to 10 years in prison, a $500,000 fine, and six years of supervised release. His lawyer did not respond to an inquiry.
"The free exercise of speech is central to our democracy," Jason Coody, acting United States attorney for the Northern District of Florida, said in a statement. "However, the defendant's threats of armed violence to inhibit expression of political views different than his own are both unlawful and dangerous. This office and our law enforcement partners are committed to protecting public safety, and the jury's verdict today has ensured that the defendant will be held accountable for his actions."
Antifa groups criticized the verdict.
"Baker's call for armed defense against far-Right threats was in the immediate aftermath of Trump's failed coup. Let's make sure Baker gets strong support! Sentencing is in August," the Atlanta Antifascists wrote on Twitter.