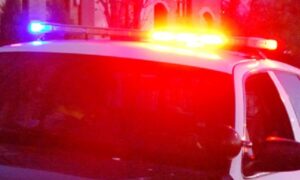 An active hostage situation at a Wells Fargo bank in St. Cloud, Minnesota, has had two captives released as of late Thursday.
One hostage was released just before 6:30 p.m. and another hostage was released around 7:00 p.m., according to local reports. Both were female, according to video footage shared by a reporter for a local TV station.
"It appears a hostage was released from the bank, followed by someone throwing a wad of cash out the door," WCCO reporter Jeff Wagner wrote on Twitter, where a video showed a woman leaving the bank.
He later posted another video of the second woman being released and led outside the bank.
According to St. Cloud police, they were dispatched to the bank at 200 33rd Avenue South around 1:50 p.m. regarding a report of a possible robbery.
A spokesperson for Wells Fargo confirmed the incident to news outlets in a statement, adding that the bank is cooperating with local law enforcement and recognized that the situation was "a traumatic moment" for the community and Wells Fargo staff.
Crowds of people were watching on from afar. The public is being asked to avoid the area as a SWAT team and FBI agents help St. Cloud police with ongoing negotiations with a suspect to release all of the hostages.
The number of people being held hostage is unknown. No injuries or deaths have been reported.
This story is developing. Check back for updates.