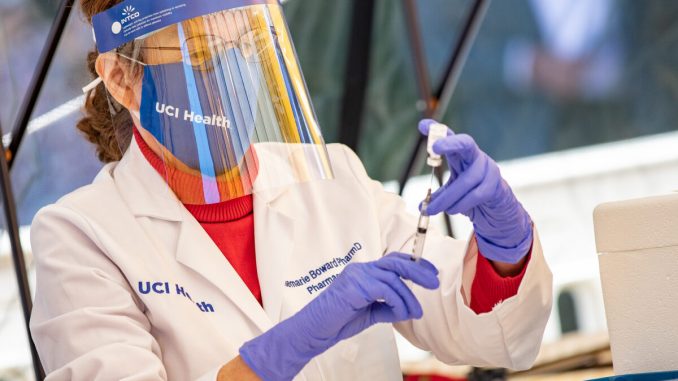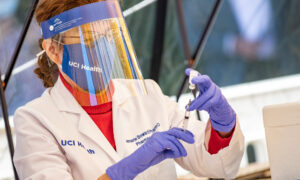 SANTA ANA—Orange County will remain in the orange tier of the state's reopening plan as its coronavirus case rate did not drop enough to move into the less-restrictive yellow tier, according to the latest weekly averages.
The county meets two of the three categories for the yellow tier in the metrics, which are released by the state on Tuesdays, and its weekly average of daily new cases per 100,000 residents improved from 2.6 to 2.4.
However, a graduation into the yellow tier requires that the case rate must get below 2 per 100,000 people. A county must maintain metrics for a tier for two weeks before graduating to a less-restrictive level.
The overall test positivity rate improved from 1.4 percent to 1.3 percent. And the county's Health Equity Quartile rate, which measures positivity in hotspots in disadvantaged communities, declined from 1.9 percent to 1.4 percent.
"The numbers are looking good," Orange County chief executive Frank Kim told City News Service. "And they're getting better. We're back to decreasing case rates."
The case rate as of May 4, for example, had fallen to 2.3 per 100,000 residents.
The county may get to the yellow tier soon, Kim said.
"It's possible now," he said. "Before the case rates plateaued at 2.8 and 3, but now I'm seeing then decrease. A week ago it was 2.7 and it's come down to 2.3, so it's moving in the right direction."
One thing that's holding the county back is its testing average. At 288.2 tests per 100,000 people, it is just below the state average of 355, Kim said. One reason Los Angeles County was able to reach the yellow tier was testing at a much higher rate than the state average and it gets extra credit for that, Kim said.
The county's average last week was 308.8 per 100,000 residents.
Another 6,161 tests were logged Tuesday, pushing the total to 3,688,884.
State officials have told the county it will receive $4.5 million to encourage more inoculations, so county leaders are now discussing how to best spend it to get more residents to get a jab in the arm.
"I'm not in favor of going out and buying a bunch of gift cards so the question is how do you provide that incentive," Kim said.
About 1.6 million Orange County residents have received at least one shot of vaccine, and 1,073,205 have been fully vaccinated, he said. Over the next week or so, officials will start deciding when to close super points of dispensing (POD) sites, and potentially shift into a more focused effort with mobile clinics, Kim said.
Orange County's COVID-19 hospitalizations fell out of triple digits for the first time in months May and remained there on May 4, while the county also reported just 72 new infections and logged nine more fatalities, with one dating back to December.
"That's amazing," Andrew Noymer, a University of California–Irvine professor of population
health and disease prevention, told CNS of the hospitalization number on May 3.
"Hospitalization is the most reliable metric that we deal with," Noymer said. "And I'm really pleased to see it below 100. There's nothing magic about 100. There's nothing epidemiologically different between 95 and 105, but lower is better and there is a psychology to all of this. Even to an epidemiologist, we're still susceptible to the psychology of it all, so I'm pleased."
The hospitalizations increased from 95 on May 3 to 97, and the number of patients in intensive care went up from 21 to 26. May 4's figures pushed the county's total to 254,116 cases, with the death toll rising to 4,978.
The county had 38 percent of its intensive care unit beds and 76 percent of its ventilators available.
Noymer said it was too early to say whether vaccine reticence will have an impact on reaching herd immunity.
"There is a scenario where just enough people are unvaccinated to keep the virus going and ruining it for other people through constant generation of new variants," he said.
"But … It's too early to say that's what's happening. California has only been open to vaccines for everyone 16 and older for just two weeks and we don't have the data yet. … We need to give it more time before pointing fingers at anti-vaxxers."
Also, labeling people as anti-vaxxer is misleading, Noymer added.
"Not everyone who wants to wait and see what this new vaccine is about is a dyed-in-the-wool anti-vaxxer. We need more time to see what's going on."
Noymer also clarified what the term "herd immunity" means to public health professionals.
"Herd immunity is where the epidemic nature of the infection peters out and loses all of its animating force due to the fact that continuous chains of transmission are continually interrupted to immune people," Noymer said.
"It's not that everyone is protected," he added.
One measure of herd immunity is when one infection stops generating multiple other infections.
The cases of COVID-19 could become rare for an extended period of time, but if it is reintroduced from someone outside Orange Country, for example, it could create another surge, Noymer said.