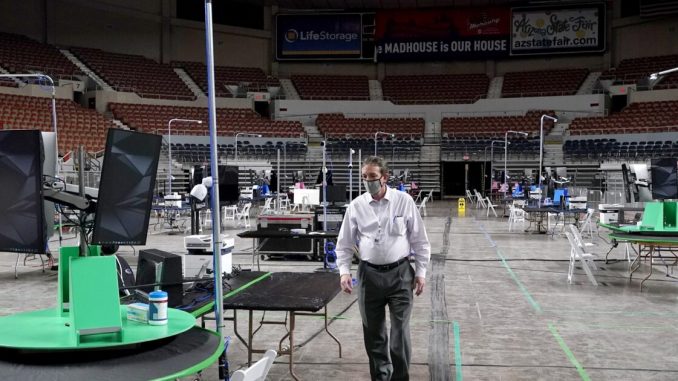 OAN Newsroom
UPDATED 10:02 AM PT – Wednesday, May 5, 2021
Officials in the Maricopa County audit are taking steps to secure their findings amid Democrat attempts to derail the effort.
On Tuesday, an anonymous volunteer said workers are signing a nondisclosure agreement agreeing not to share any findings with third parties. If they are asked to reveal confidential information in court, the group carrying out the audit — Cyber Ninjas Inc. — must be notified.
There's a lot of thought and planning that's gone into making America's Audit secure, safe and fair. Take a look as AZGOP Chairwoman @kelliwardaz gives us a rundown of the process and the security in place. #AmericasAudit #FinishTheAudit #ElectionIntegrity pic.twitter.com/RXbXFj1zzW

— Arizona Republican Party (@AZGOP) May 4, 2021
On Monday, the chairwoman of the Arizona Republican Party, Kelli Ward, also weighed in on security measures in place. She stressed "there is a lot of planning" to ensure the audit is safe and secure.
"It is a simple process, but it has to be run a professional, secure manner to make sure we get this right," she stated. "And there's another thing that the Democrats and the media get wrong and like to spin: there are not only nine cameras in the arena as you see on the website…there are dozens of private security cameras focused on the tables."
The Arizona election audit appears to be highly organized as well as color coded. For more information, check out this report from One America's Christina Bobb.
Color coding of Ariz. audit explained https://t.co/bq8SbyFvjT #OANN @christina_bobb

— One America News (@OANN) May 5, 2021