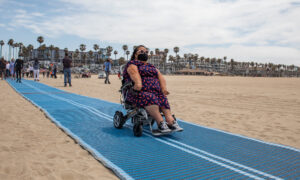 The City of Huntington Beach rolled out a new tool May 5 that gives disabled beachgoers an opportunity to get closer to the ocean.
Known as a "Mobi-Mat", the 150-foot pathway lies on top of sand, extending from the sidewalk to the shore. There is an extended area toward the end of the mat, which allows about five people in wheelchairs to be in or near the water. It is located near the city's pier off 6th Street.
Huntington Beach Councilmember Natalie Moser spearheaded the project, when six months ago she began talking to the family of a 14-year-old boy Kumaka Jenson, who was born with a spinal cord condition called spina bifida. The project has been actively in the works for about four months, according to Huntington Beach assistant to the city manager Catherine Jun.
Huntington Beach Mayor Kim Carr, as well as Orange County Supervisor Katrina Foley, spoke at the event. Jenson also addressed the initiative, calling it a great act by the city.
Following speeches, officials unrolled the mat along the beach, staked it into the ground, and had a ribbon cutting ceremony.
"The city is just thrilled, we want to make sure that Surf City is accessible to the entire public, not just people who are able to walk to the water. We want to be able to cater to all differently-abled people," Jun told The Epoch Times. "We want to make [Huntington Beach] a friendly place."
Jun said she heard stories at the event about wheelchair-bound people who said how great it felt to finally be able to get down to the water, with some residents who haven't been able to get close in years.
While the mat did not go into the water during the event due to a low tide, June said it will during mornings and around 3 p.m. when the tide is higher.
"It's such a critical component," Jun said. "People don't come here just to sit and look at the sand. They come here to touch the water and enjoy it… It's a small project relative to some of the things that we do, but it made such a big positive impact to our community."