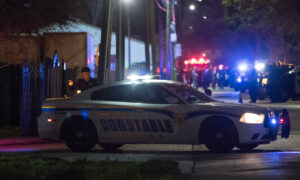 Five people have been charged days after Houston police discovered 97 migrants in a suburban house in what appears to be an alleged human smuggling case, the Justice Department said Monday.
The individuals, all of whom are residing in the United States illegally, are now in custody and face federal charges. They are from Mexico, El Salvador, and Honduras, and are aged between 21 and 31.
Marina Garcia-Diaz, 22; Henry Licona-Larios, 31; Kevin Licona-Lopez, 25; Marco Baca-Perez, 30; and Marcelo Garcia-Palacios, 21, face one count each of harboring migrants into the United States, online court records state.
According to a criminal complaint filed Saturday, all five harbored, concealed, and shielded illegal aliens for the purpose of commercial advantage or private financial gain.
The two-story home where they allegedly harbored nearly 100 undocumented migrants in two rooms is described in court papers as a "stash house."
All of the men were found in their undergarments, according to the complaint, and people were packed together on both floors.
No children were inside the house, Houston Police Assistant Chief Daryn Edwards told reporters at a press conference last week. About five were women while the rest were men, he added.
Many had not eaten in a while, he said, adding that the youngest person was in his or her early 20s. They were provided food and water.
Houston police first received a phone call from a woman reporting her brother had been kidnapped on Friday. She alleged she had paid several thousand dollars for him to be smuggled into the United States from Honduras, and smugglers later demanded additional money before they would release him.
The smugglers also threatened to kill her brother, according to the charges. Separately, at least one individual was told that if the money was not paid, he would be put in "4 pieces of wood," court documents state.
If found guilty, each of the five people charged faces up to 10 years in federal prison and a fine of up to $250,000.
Jack Phillips contributed to this report.