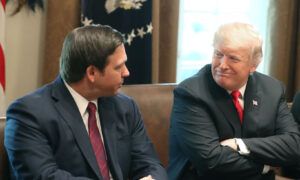 Former President Donald Trump said he is floating a 2024 run and could consider Florida Gov. Ron DeSantis as a potential running mate.
"I endorsed Ron and after I endorsed him he took off like a rocketship," the former president told Fox Business on Thursday. "He's done a great job as governor. I'm saying what I read and what you read, they love that ticket. Certainly, Ron would be considered. He's a great guy."
If Trump doesn't run, DeSantis has been considered a potential GOP frontrunner for 2024. The Florida governor has been praised by numerous Republicans for his move to lift all COVID-19-related restrictions in his state in September, making Florida one of the most open states.
"I ran twice, and the second time I got 12 million more votes than the first time," Trump also remarked in the interview.
The former commander-in-chief, however, did not make a definitive prediction in the interview about running again. If he makes an announcement too early, it "has a big impact on fundraising and many other things."
"It's a little bit of a crazy, complex thing," Trump added in the interview. "The whole fundraising contribution stuff is ridiculous; the laws are so archaic and stupid, frankly."
Separately, Trump encouraged Republicans to "have courage" and "keep fighting" against the Democrats' agenda.
"It's going to happen," he said. "We're going to turn it around. They've gone too far. They can't get away with this. We can't allow them to get away with this. They're destroying our country. Have courage. It's going to happen. I'm with you."
It came after President Joe Biden's first speech to Congress on Wednesday night, where he pushed a vision of more government investment funded by the wealthy. He made a plea to raise taxes on corporations and high-earning Americans to pay for his $1.8 trillion American Families Plan.
"It's time for corporate America and the wealthiest 1 percent of Americans to pay their fair share … just pay their fair share," Biden said.
Biden argued that his proposals for families and infrastructure, which together total about $4 trillion, represent a once-in-a-generation investment vital to America's future.
However, some Republicans said that the proposals are part of a socialist agenda designed to increase government control over Americans' lives.
"The President has adopted the radical left's agenda to control every aspect of your life,' House Minority Leader Kevin McCarthy (R-Calif.) wrote on Twitter in response. "Republicans will work with anyone to build America up, but we can't tax and spend our way out of our problems. We will not stand by as he takes us down the path of socialism."
The Epoch Times has contacted DeSantis' office for comment.
Reuters contributed to this report.