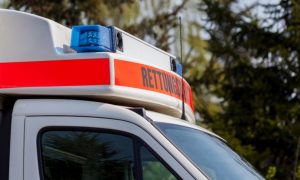 A Maryland father and his young daughter died after drowning in a swimming pool over the weekend, officials said.
The Charles County Sheriff's Office said that a 7-year-old girl jumped in an in-ground pool in Waldorf on Saturday but didn't know how to swim. Her father, 44, then jumped in the pool to rescue her but also was "unable to swim," the office said.
A 17-year-old male who was at the party saw what was happening jumped in to help, but "all three victims took on too much water and drowned," officials said.
The 17-year-old was flown to Children's Hospital Center in critical condition.
Two firefighters were injured during the water rescue and were taken to the hospital, treated, and then released, the sheriff's office said in the release.
The office identified the 7-year-old as Christian Omofolawe Agboola, the father was identified as Haffis Olanrewaju Agboola. The 17-year-old wasn't identified.
Charles County Sheriff's Office spokesperson Diane Richardson told the Washington Post that "between trying to rescue them and struggling, everyone took in too much water."
"I just think everything was chaotic," she added.
Richardson said that the water in the pool was eight or nine feet deep.
"I seen (sic) them trying to take off their gear and jump in the water," Alisha Pinckney, a neighbor, told NBC4 Sunday. "Oh my goodness, it was just sad."
Drowning is considered a leading cause of death for children, according to the Red Cross. The group recommends that every family member be taught how to swim, barriers should be placed around pools, and a "water watcher" should be designated.
An investigation into the matter is ongoing. Other details weren't released by the office.