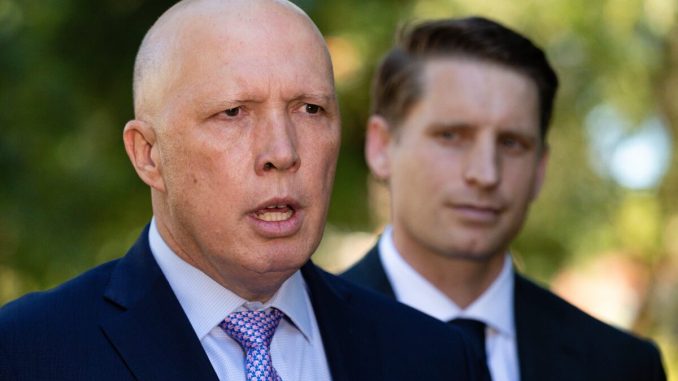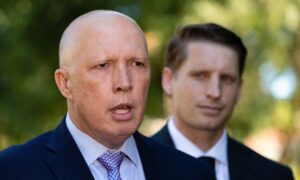 Australian Defence Minister Peter Dutton has said that China has been obvious about its intentions in the Indo-Pacific and it wouldn't be in the country's national interests to ignore it. He also warned that Australia is already at war on a cyber front from adversaries that he won't shy away from naming and shaming if they're state actors.
Speaking with The Sydney Morning Herald and The Age on Monday, Dutton said that the Chinese regime had been "very clear about their strategy, their approach and their desires" for the Indo-Pacific region.
"Pretending it's not being said or turning a blind eye to it is not in our national interest," Dutton said, noting that ordinary Australians could already see what the Chinese Communist Party (CCP) was doing.
"The public is frankly ahead of where the public debate is because there's just so much information available online. People see the reported comments of the ambassador and the vice ambassador here, as well as the spokesman out of Beijing."
"Australians who are living across cities, towns, and suburbs across the country … they know what we are saying is factually based," he said.
The defence minister's comments come a week after he told the ABC that a conflict over Taiwan could not be ruled out given the current climate in the Indo-Pacific. In that interview he signalled his desire to have a "frank conversation with the public" about China's intentions.
He said that while the Morrison government's top priority was maintaining the current peace in our region, Australia must also be strong enough to ensure peace. To that end, the Morrison government will be putting more resources into defending Australia from potential attacks in the Indo-Pacific.
"There are many approaches to Australia from the north and the west and clearly from the east obviously as well," Dutton said.
"So we need to make sure we are in a position to defend those waters, we need to make sure that we're in a position to deal with criminal actors who are sophisticated using major naval assets in our waters, so protection for our borders and our waters to the north and west remains a clear priority."
Currently, the Australian Defence Forces are undergoing a Strategic Force Update to make the armed forces fit for the current era of geopolitical competition in the Indo-Pacific. To that end, the federal government has noted that it will increase defence spending to 2 percent of GDP as a base rate for the next ten years—an estimated $575 billion on defence upgrades.
Last week the government announced it would spend $1 billion on developing long-range missile capabilities to produce and arm the defence forces with guided long-range missiles. On Monday, it was reported that the government would spend a further $2 billion for 160 new Abrams tanks and four Chinook helicopters.
Australia will also spend $747 million to upgrade four military training facilities in the Northern Territory.
Australia Already Under Cyber Attack
In the interview, Dutton noted that Australia was already under attack in the grey zone area of cyber operations.
"We're already under attack on the cyber front. Under attack by state actors, under attack from very sophisticated criminal syndicates based in the Middle East, based in Asia, and based in Europe," Dutton said. "So that's the reality, and it's not seen, and there's no casualties on the battlefield, but there are companies and victims every day."
Australia has seen four major cyber attacks in the past three months, with attacks occurring on the UnitingCare hospitals in Queensland, the Nine Network Media Group, and the federal government and the Australian Securities and Investment Commission.
Dutton also noted that Australia's cyber capabilities were significant and said this gave the country an edge but more work needs to be done.
"There's a lot of capacity that Australia has in the cyber space that clearly we wouldn't talk publicly about but gives us a very significant edge over many adversaries, even sophisticated adversaries."
He also did not rule out naming and shaming state-based cyber actors, as long as Australia can positively identify the actors by not revealing any secret capabilities of the Australian Signals Directorate (ASD).
"Where it's in our interests to call out—whether it's Russia or China or North Korea or somebody else—we will call them out," he said.