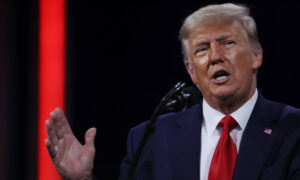 Former President Donald Trump claimed victory after his endorsement of a leading GOP candidate shut out Democrats from a congressional special election in Texas.
Republicans Susan Wright, the wife of the late Rep. Ron Wright, finished with 19 percent of the vote, while Jake Ellzey garnered 14 percent. Democrat Jana Lynne Sanchez finished third with 13 percent and conceded on May 2.
"Please explain to the Democrats and RINOs that the reason Texas-06 completely shut out Democrats in Saturday's Jungle Primary is because of my Endorsement of Susan Wright, who surged last week after receiving it," the former president said in a statement on Monday. "RINO," or "Republican in name only," is a term used against Republicans who seemingly embrace progressive or Democratic politics.
Trump continued, "The Democrats were shut out and now it will be a contest between two Republicans, a very big win. It would be nice, however, if the pundits and Fake News Media would state the real reason for this unprecedented (Democrats have never been shut out before) victory!"
Wright is the wife of a deceased Rep. Ron Wright (R-Texas), who died earlier this year after a long battle with cancer.
Trump won the 6th Congressional district in 2020 by 3 percentage points.
"Democrats have a come a long way toward competing in Texas, but we still have a way to go," Sanchez said in a statement over the weekend. "Unfortunately … we came up short, and two Republicans will be competing to represent this congressional district."
A runoff between the top two vote-getters is required since no candidate received a majority in the first round. A runoff date has not yet been set. The election was the first test of the Texas electorate since President Joe Biden's 2020 election victory. Trump defeated Biden in Texas, a state where Democrats hope to make inroads.
Democrats said they had hoped to flip the seat.
"Although a Democrat is not advancing to the runoff, yesterday's incredibly close margins showed that voters are invested in electing Democrats, and are fighting for the representation their communities deserve," Texas Democratic Party Chairman Gilberto Hinojosa said in a statement on May 2.
"The new Democratic South is rising, and we will continue to rally our movement to take back our state—including as we look toward the 2022 governor's race," Hinojosa added. "We're ready to build Democratic power, ready to defeat Texas Republicans, and ready to elect leaders who defend our rights and put Texans first."
Reuters contributed to this report.