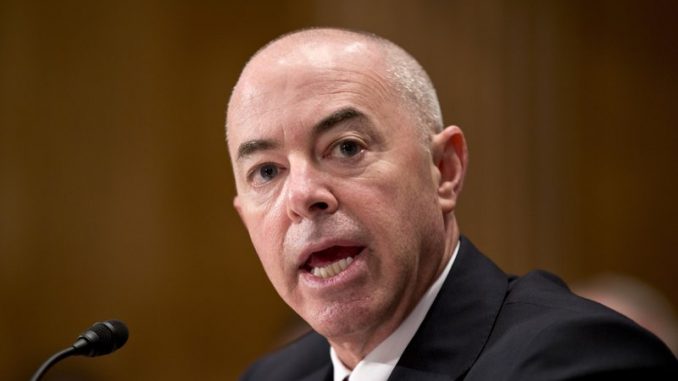 OAN Newsroom
UPDATED 9:56 AM PT – Tuesday, August 3, 2021
The secretary for the Department of Homeland Security, Alejandro Mayorkas, is blaming the 45th presdient for the consequences of the Biden administration's policies and is labeling January 6 protesters as terrorists.
Specifically, he's blaming President Donald Trump for the border crisis. During an interview Monday, Mayorkas admitted there's a problem at the southern border, but gave no fault to Joe Biden, Kamala Harris or himself. Instead, he insisted the issue stems from the Trump administration not sending enough money to other countries.
"Let me, if I can share with you what makes the challenge so acute at this point in time," Mayorkas stated. "We are following an administration that, frankly, dismantled our capabilities to address it and so we are building it from the ground up. We lost four years of investing in the countries from which these individuals are migrating."
The DHS secretary also said the administration's plan to solve the problem is in place and working, adding he has "remarkable people" addressing the Biden border crisis. Yet, little action has been taken by the his administration to reduce illegal border crossings.
Also in his interview, Mayorkas went on to say "domestic violent extremism" is the biggest terrorist threat to the U.S. pertaining to the January 6 protests. GOP lawmakers have said January 6 protesters are facing political persecution after participating in the rally.
Why can't even members of Congress find out about the state of the January 6 prisoners? @mattgaetz @mtgreenee https://t.co/eUzgWY9ZIg

— Dinesh D'Souza (@DineshDSouza) August 1, 2021
Mayorkas alluded to a political purge suggesting one is underway in the U.S. military. Many warn this is the first time in U.S. history when servicemen and women are labeled as "terrorists," along with millions of other patriotic Americans.