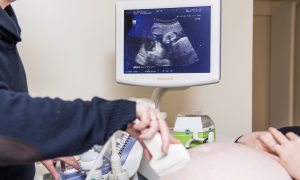 A city in Texas voted on Saturday to become a "sanctuary city for the unborn" after its residents approved an ordinance that outlawed abortion within the city.
Sixty-two percent of voters in Lubbock, a city of about 250,000 people in northwest Texas, backed the measure while 38 percent voted against it, according to unofficial results from the Lubbock County Elections Office.
Part of the ordinance reads: "It shall be unlawful for any person to procure or perform an abortion of any type and at any stage of pregnancy in the City of Lubbock, Texas." It also renders abortion "at all stages of pregnancy" an "act of murder" with a medical exception.
The ordinance is likely to face legal challenges. The Lubbock City Council voted unanimously last November to reject the ordinance raising concerns that it may be unconstitutional and may open the door to lawsuits. Voters in the city were then given a chance to approve or reject the ban in a local May 1 election.
Lubbock Mayor Dan Pope issued a statement in response to the election results.
"Over the course of several months, Lubbock citizens who support the ordinance and those opposed have expressed their thoughts in public forums and engaged in passionate debate on this sensitive issue. Today, voters made it clear that Lubbock will become the next sanctuary city for the unborn. I am encouraged by the significant voter turnout," he told local media KCBD.
He said that the city council will begin the process of adding the approved ordinance into the city's Code of Ordinances and will canvass the votes from the election on May 11. The ordinance is likely to come into effect on June 1, he added.
The effort to outlaw abortion comes after a Planned Parenthood clinic opened last year.
Reacting to the early results, Sarah Wheat, a spokeswoman for Planned Parenthood of Greater Texas, said "we are committed to expanding access to abortion and will provide abortion services when possible in Lubbock."
Meanwhile, the American Civil Liberties Union, which has filed multiple lawsuits against measures limiting abortions, said the organization has a "long history of challenging unconstitutional abortion bans and will continue to fight to protect the fundamental rights of the people of Lubbock," without indicating whether they intend to launch a legal challenge.
Meanwhile, Rep. Dustin Burrows, a Lubbock Republican, called the vote a "victory for life" in a statement to Texas Tribune.
"Today is a victory for life and proof that the silent majority will still stand up for its Christian conservative values," Burrows said.
This comes as Republican-led states are weighing or have proposed bills aimed at limiting abortions such as "heartbeat bills," which bans most abortions once a fetal heartbeat is detected usually at around six weeks of pregnancy.
Many of these bills have led to a series of legal challenges in courts. These states are hoping that the lawsuits could be a vehicle to challenge Roe v. Wade, which classifies the right to choose to have an abortion as "fundamental," in the Supreme Court. Several courts across the country have already invalidated the "heartbeat bill."
In June last year, the Supreme Court struck down a Louisiana law that required doctors who perform abortions to have hospital admitting privileges close to where the procedure takes place.
The court said the law was unconstitutional. It found that the Louisiana law was almost identical to a 2016 Texas law that had already been struck down by the same court and that the Texas law placed "a substantial obstacle in the path of women seeking an abortion."