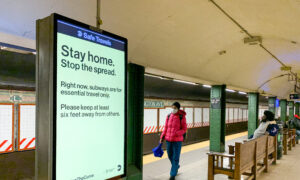 Nonstop subway service should be restored in New York City, Sen. Chuck Schumer (D-N.Y.) said on Sunday.
"The city that never sleeps has a name we have to live up to everywhere, including within our subway service," Schumer, the Senate majority leader, told a briefing in the city.
As normal life resumes for many in the metropolis, the subway should be available at all times, the Democrat said.
Because of the COVID-19 pandemic, New York Gov. Andrew Cuomo on April 30, 2020, ordered the subway system to shut down each day for four hours starting at 1 a.m.
The move came because of deteriorating conditions, deaths from COVID-19 among transit workers, and a plunging subway ridership.
But the number of riders has shot up in recent months, hovering around 2 million per day in the last two weeks, according to the Metropolitan Transportation Authority (MTA). That's down over 50 percent from an equivalent day pre-pandemic, but much higher than the sparse numbers seen last year.
"This is New York City. People work at 2 a.m. 3 a.m. 4 a.m. That's how we are. So people work at two, three, and four in the morning but subways aren't working at this point at 2, 3, 4 in the morning. So today, joined by New Yorkers who are among the millions that use the subway, we are here to say open it up," Schumer said.
"We need 24-hour service restored now and we are calling on the governor to do that immediately," added Betsy Plum, executive director of the Riders Alliance.
New York City Mayor Bill de Blasio said last week he plans to fully reopen the city by July 1 and that 24-hour subway service should resume by then.
But Cuomo holds the power to lift some restrictions from the city, and controls the MTA, which operates the system.
Cuomo's office did not return a request for comment.