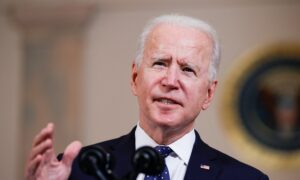 President Joe Biden on Wednesday announced another progressive piece of legislation, his $1.8 trillion American Family Plan, which will expand access to community college and preschool, as well as child care and healthcare for families, funded mainly by tax increases on wealthy Americans.
Biden's new plan is his third major legislative package. It will combine $1 trillion in spending with $800 billion in tax cuts and credits for middle- and lower-income families.
President Biden is calling for $200 billion for free universal pre-school for all three- and four-year-olds and $109 billion for two years of free community college, extending the child tax credit through 2025, financing teacher training, and expanding the earned income tax credit to childless adults with low incomes. The plan will also provide direct support to families by investing $225 billion toward child care and creating a national paid family leave program.
The new proposal comes right after Biden's $2.25 trillion infrastructure plan that is still pending consideration by Congress and a $1.9 trillion pandemic relief plan that Biden signed into law. The three packages expand social welfare programs while largely shifting the tax burden to the wealthy.
"The President will be proposing a set of measures to make sure that the wealthiest Americans pay their share in taxes, while ensuring that no one making $400,000 per year or less will see their taxes go up," the White House wrote in a fact sheet about the legislation.
Wednesday's proposal would negate the 2017 Trump tax cuts by increasing the top individual tax rate from 37 percent to 39.6 percent for taxpayers in the top 1 percent of income. Biden is also proposing an increase in the capital gains tax rate to 39.6 percent for households making more than $1 million.
Biden is expected to lay out his full agenda for the coming months and highlight the American Family Plan during a speech before a joint session of Congress on Wednesday night.
Chairman of the House Ways and Means Committee, Rep. Richard Neal (D-Mass.) supports legislation to expand government support for working families.
"Our economy is premised on the idea that some workers are worthy of 'perks', like paid leave or affordable child care that works for their schedules, while the majority are forced to fend for themselves. For our economy to fully recover from this pandemic, we must finally acknowledge that workers have families, and caregiving responsibilities are real," said Chairman Neal in a press release.
Meanwhile, White House Press Secretary Jen Psaki said the new proposal is "bold" and should be supported by both parties.
"The American families plan is going to ensure that kids across the country, families across the country, get four years of additional education, universal pre- K, that's not a partisan proposal, that's something people across the country really could benefit from," said Psaki on NBC News on Wednesday.
Republicans, however, see Biden's new legislation as another gift to progressive and socialist policies.
"We will now have by far the highest capital gains tax rate, by the way, it'll be the highest in U.S. history, but it'll be the highest of all the major countries," said Larry Kudlow on Fox News, director of the National Economic Council during the Trump administration from 2018 to 2021.
"We are giving the store away. This is redistributionist, an assault on investment. It makes left-wing ideology, and I will say, House member AOC is right. The progressive left-left, won Biden's heart, absolutely," said Kudlow.
Rep. Alexandria Ocasio-Cortez (D-N.Y.) acknowledged progressives' appreciation for Biden's policies, saying the administration had surpassed her group's expectations.
"I do think that Biden administration and President Biden has definitely exceeded expectations that progressives had," she recently said on CNN.
Rep. Lee Zeldin (R-N.Y.) said Biden's legislation is expanding the progressive agenda and is not bipartisan.
"And what we're seeing in the name of an infrastructure bill or a COVID relief bill, which should be bipartisan, we're [Democrats] going to use it to fill up with our liberal wish list," said Zeldin on Wednesday during a Fox News interview.
"So that's not really compromise, it's not common ground. That's not unity. And not only is this contradicting the way he ran his campaign. It also contradicts the main theme of his inauguration address," said Zeldin.