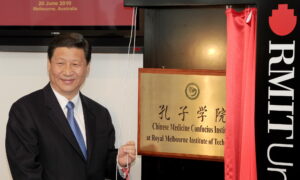 Ľuboslav Štora, the former director of the Confucius Institute (CI) in Slovakia's Bratislava, drew attention for sending intimidating messages in emails to Matej Šimalčík, one of the key independent experts on China in Central and East European countries.
Štora had served as the head of the Slovak branch of communist China's tech giant ZTE before he worked for the CI, which was founded in 2007 on basis of an agreement between China's Tianjin University and the Slovak University of Technology.
Šimalčík is the executive director of the Central European Institute of Asian Studies (CEIAS). In 2020, he and Adam Kalivoda published an investigative report titled China's inroads into Slovak universities: Protecting academic freedoms from authoritarian malign interference (pdf). They warned Slovak academic institutions about the risk of cooperating with Chinese entities, given "the nature of the [authoritarian] Chinese regime."
Their study revealed that 25 out of 113 academic interactions between Slovakia and China had links to the Chinese Communist Party's (CCP) People's Liberation Army (PLA); that over 60 percent of those relations were with Chinese universities categorized as either "high risk" or "very high risk" by the Australian Strategic Policy Institute (ASPI), including Northwestern Polytechnical University. Moreover, less than half of the concluded cooperation agreements are published in Slovakia's Central Registry of Contracts.
The report gave particular attention to three CIs and three Confucius Classrooms in Slovakia, which were criticized for a lack of transparency in the areas of their financing and hiring processes, which worried the co-authors.
According to journalist William Yang's report on Medium, Štora, however, wrote in an email to Šimalčík, saying: "Good morning, are you sleeping well?" and "You should be under a lot of stress when you walk down the street," and used abusive language like "Who finances this nonsense for you?"
In response, Šimalčík politely asked Štora to apologize for his "unwarranted comments." But the latter continued to menace the independent scholar with words like "Be Patient, Big Brother is watching you," and "P.S.: sleep better, it's a heart attack prevention."
Slovak daily Denník N was the first to report the story.
It was at this time that the former director of the CI began to change his tone, claiming that he was just playing a joke with the scholar and that he hadn't known anything about the CCP's application of facial recognition to Uyghurs in Xinjiang.
Edward Lucas, a senior fellow at the Center for European Policy Analysis and a former senior editor at The Economist, expressed on April 29 that the incident suggested that China's CIs are part of its sharp-power offensive.
Currently, Štora has reportedly been fired by his employer, which he declined to name.
The Epoch Times has requested comment from both Ľuboslav Štora and Matej Šimalčík but has not yet received any reply as of publishing.