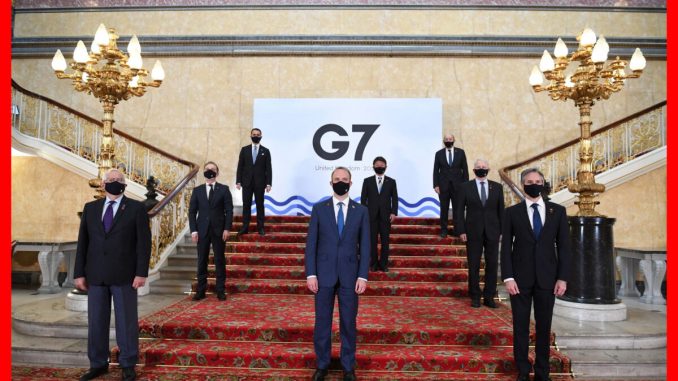 G7 Foreign Ministers are discussing geopolitical threats that undermine "democracy, freedoms, and human rights" in London on Tuesday during their first meeting since 2019.
"This includes relations with Russia, China, and Iran, as well as the crisis in Myanmar, the violence in Ethiopia, and the ongoing war in Syria," the UK's Foreign Office said in a statement.
Burma, also known as Myanmar, has been controlled by the military since a coup on Feb. 1, when civilian leader Aung San Suu Kyi was detained in an early morning raid.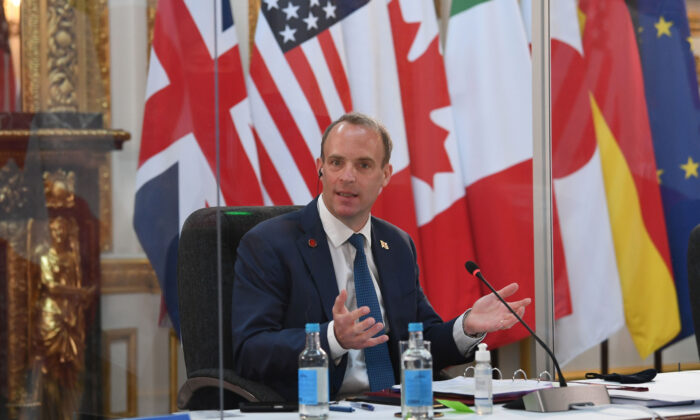 The UK's Foreign Office said Foreign Secretary Dominic Raab, who's hosting the summit, was expected to urge G7 nations to "take stronger action against the military junta" including sanctions, arms embargoes, and to increase humanitarian assistance.
Other discussions will include the situations in Libya, Syria, Ethiopia, Somalia, the Sahel, Western Balkans, and Russia's "ongoing malign activity including through the build-up of troops on the border with Ukraine, and its imprisonment of opposition figure Alexei Navalny and the situation in Belarus."
The foreign ministers from G7 countries—the United Kingdom, the United States, Canada, France, Germany, Italy, Japan, and the European Union—are expected to hold a dinner discussion with guest nations Australia, India, the Republic of Korea, South Africa, and Brunei as the current Chair of the Association of Southeast Asian Nations (ASEAN).
Raab said that "the UK's presidency of the G7 is an opportunity to bring together open, democratic societies and demonstrate unity at a time when it is much needed to tackle shared challenges and rising threats.
"The addition of our friends from Australia, India, the Republic of Korea, and South Africa, as well as the chair of ASEAN, reflects the growing significance of the Indo-Pacific region for the G7," he added.
Raab has met with U.S. Secretary of State Antony Blinken on Monday.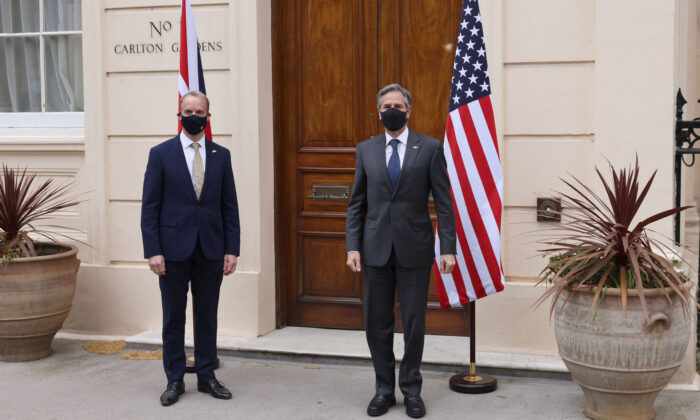 "Discussions included UK-U.S. shared commitment to open societies, a strengthened multilateral system, efforts to build back better from COVID-19, including through the COVAX facility and a UK-U.S. FTA, and the need to stand together against the continuing malign and destabilising behaviour of Russia," the British Foreign Office said in a statement.
"The Foreign Secretary outlined UK priorities in the Indo-Pacific, including the need to hold China to account on Xinjiang and Hong Kong. They also discussed latest developments in Afghanistan, Iran, and Ethiopia," the statement reads.
During a press conference after the meeting, Raab said that Blinken and he saw "eye-to-eye" on the need to hold Beijing to its commitments including the Sino-British Joint Declaration, "whilst also at the same time finding constructive ways to work with China in a sensible and positive manner where that's possible."