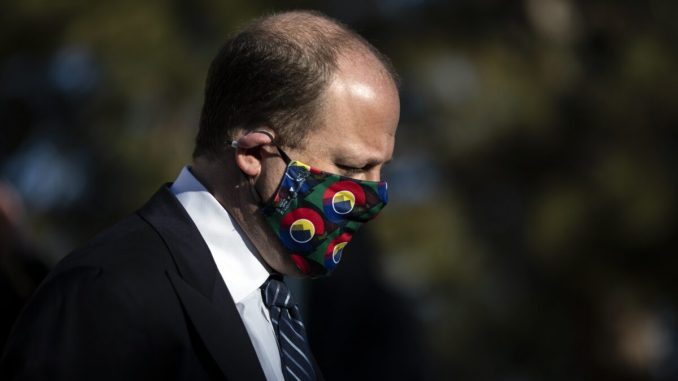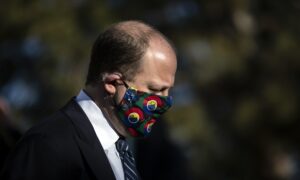 Colorado's governor on Sunday extended his mask order again for another 30 days.
Gov. Jared Polis, a Democrat, amended and extended his mandate just before it was set to expire.
The extension means that children 11 and older in schools and during extracurricular activities, across the state must continue wearing masks, as will kids that age and adults in a range of settings such as child care centers, prisons, congregate care facilities, and state government buildings.
Additionally, in counties that record one-week COVID-19 rates higher than 35 per 100,000, masks must be worn in all public indoor spaces when 10 or more unvaccinated people, or people whose vaccination status is not known, are present.
On the other hand, in counties with rates less than 35 per 100,000, mask wearing is not required in those situations.
"Vaccines not only protect you and your loved ones from getting this deadly virus but also allows Colorado to return back to normal. Reaching a high level of immunity is what will allow for a life without masks, but before that is possible, many more Coloradans need to get vaccinated," the office of Polis said in a statement.
According to health data from Colorado authorities, nearly 2 million people in the state are fully vaccinated against the CCP (Chinese Communist Party) virus, which causes COVID-19.
Fully vaccinated means a person has received two doses of the Pfizer or Moderna vaccine or the single-dose Johnson & Johnson vaccine, and at least two weeks has elapsed.
Health data also show that there are 2.6 million people immunized with one dose.
Colorado has a population of 5.7 million, according to the 2020 census.
The new order has no provisions for outdoor mask wearing. Polis has never mandated outdoor mask wearing during the pandemic. The Centers for Disease Control and Prevention last week offered looser guidance for wearing coverings outdoors in light of the growing body of research that shows little danger of becoming infected when outside.
But a number of states have rolled back their mask mandates entirely, noting the increase in people being vaccinated and a decrease in many areas of COVID-19 cases, hospitalizations, and deaths.
"We have been very careful from the beginning of this pandemic to take items up individually and make informed decisions," New Hampshire Gov. Chris Sununu, a Republican, told a briefing last month in announcing a rollback of his mandate.
"We have never set arbitrary dates unsupported by the data and the science. It is important to note that this mandate going away will not limit or prevent the ability of private businesses and local cities and towns from requiring masks. Of course, we continue to encourage folks to wear masks when they are unable to socially distanced [sic]," he added.
Texas, Florida, and other states that removed their mask mandates have largely seen a decrease in COVID-19 metrics, despite some experts predicting the removals would lead to a surge in cases.