President Joe Biden keeps wearing masks outside, in some cases against new federal health guidance, as a precaution, a White House official said on Sunday.
"We do take some extra precautions for him because he is the president of the United States," Anita Dunn, an adviser to Biden, said on CNN's "State of the Union."
The Centers for Disease Control and Prevention (CDC) loosened its masking guidance last week, advising people that they can forgo wearing masks in small groups outside even if they have not gotten a COVID-19 vaccine.
But Biden has continued wearing a face covering outdoors even with no one or just his wife near him.
Asked recently on NBC's "Today" show whether Americans would see the president outside without a mask on, Biden said "sure."
"But what I'm going to do, though, is because the likelihood of my being able to be outside and people not come up to me is not very high," he added, saying that he was not wearing a mask during the interview because he and the interviewer were spaced some six feet apart.
It's a small precaution to take that has a profound impact. It's a patriotic responsibility for God's sake," Biden also said.
After the CDC issued its updated guidance, Biden spoke outdoors at the White House about it. Even while walking outside alone he donned a mask, prompting a reporter to question him. "What message were you sending by wearing a mask outside alone?" Biden was asked.
"By watching me take it off and not put it back on until I get inside," Biden responded.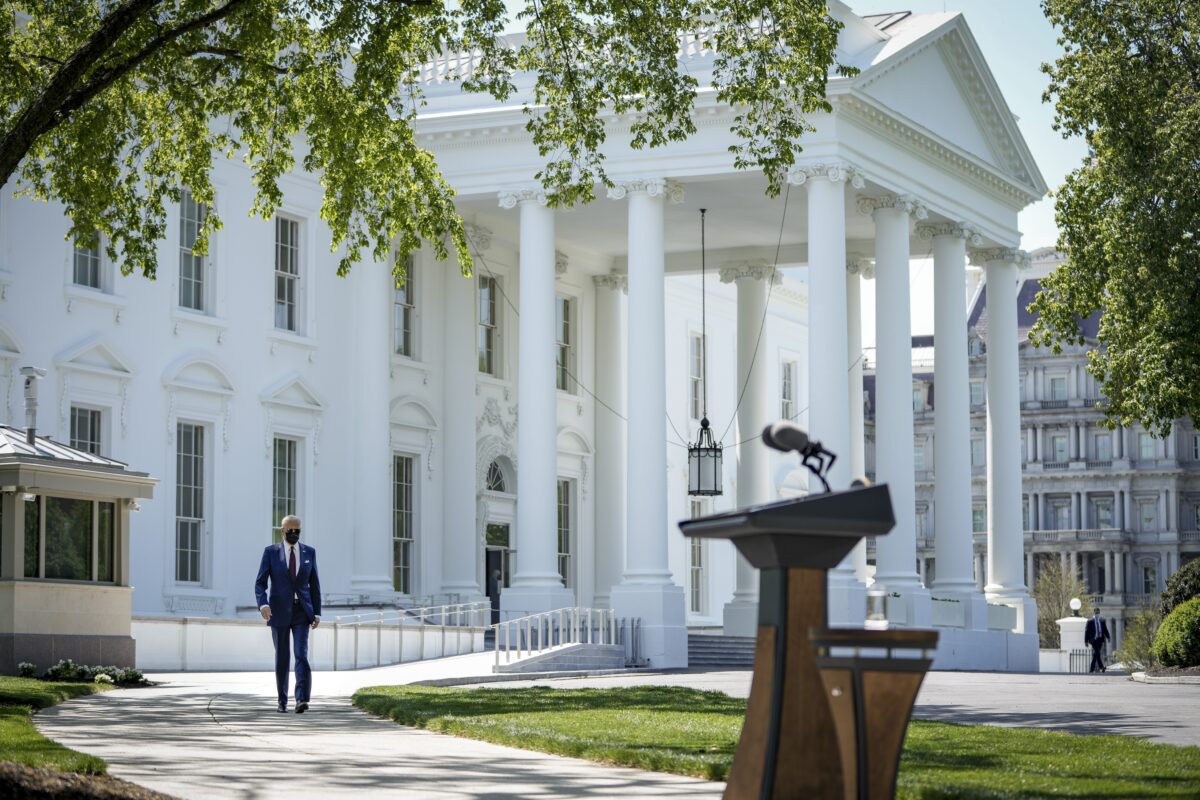 Critics say Biden's comments and actions don't reflect the research on mask effectiveness. Some argue anyone who has been fully vaccinated against the CCP (Chinese Communist Party) virus, which causes COVID-19, should not need to wear a mask. Biden has been fully vaccinated.
"I understand that the Biden team wants to be cautious, but caution comes at a price. And that price is that people are saying, well, what's the point of getting vaccinated?" Dr. Leana Wen, former president of Planned Parenthood, said on CNN, where she is a contributor, on April 26.
Dr. Anthony Fauci, one of Biden's top medical advisers, and some others have said people should keep wearing masks even if they've gotten a vaccine because of the virus variants circulating in the United States.
Dunn on Sunday said the president "takes the CDC guidelines very seriously."
"And he's always taken his role as sending a signal to follow the science very seriously as well. We do take some extra precautions for him because he is the president of the United States. But I would say that people should follow the CDC guidelines, and they should take advantage of getting the vaccine, getting fully vaccinated, and taking that mask off, particularly as the weather grows so beautiful and we all want to be outside," she said.
"It's a lot more fun to take that outside walk without a mask, that outside bike ride. And I think that, as people get vaccinated, they're enjoying it and they're enjoying that freedom. So, as we move forward, I think that you will see more and more people enjoying that freedom, getting the vaccine, and realizing it's one big step towards normalcy in this country."